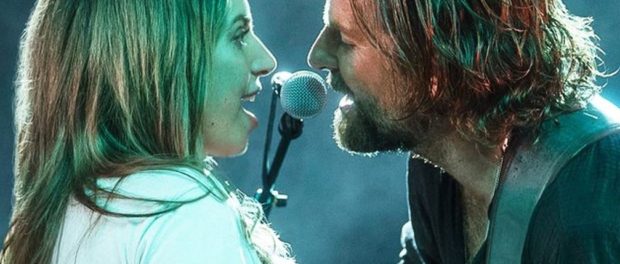 [7.5]
Director/co-star Bradley Cooper decided it was time for a fourth version of A Star is Born (previous versions were released in 1937, 1954, and 1976). I haven't yet seen any of those versions, so I'm coming into this one without the burden of comparison. I was expecting a romance movie with a lot of singing. So I was expecting to hate the movie, honestly. But the first forty-five minutes of this movie succeeded in winning me over entirely.
Cooper plays a famous singer/guitarist with a drug and alcohol problem. He accidentally stops into a drag bar for a drink and meets Lady Gaga's character performing on stage. Nothing is forced or implausible in their attraction to one another — in fact, Gaga resists him for quite some time. I fell in love with both characters and got sucked into the almost real-time nature of the film's opening hour. Cooper captures a time, a place, and an atmosphere in that first hour, and he lets the characters — not the script — move things along. It's an hour in defiance of convention. The verité vibe reminded me a lot of great films from the 1970s.
Both actors give great performances, though Cooper at times seems like he's doing an old Jeff Bridges impersonation. Gaga never grandstands or feels remotely like a diva. She's underplaying things almost to perfection. Sam Elliott and Dave Chappelle give strong supporting performances, and even Andrew Dice Clay has been dusted off and put to good use as Gaga's father. Matthew Libatique's cinematography is colorful and alive, and the songs — many written by Gaga and Cooper — aren't torture to listen to! It's also remarkable that the vocals were recorded live, not dubbed.
After the first hour, the movie becomes more familiar and predictable — but it never lost me. It's a thrill to watch Cooper and Gaga fall in love, and to see her singing career take off. It's much less of a thrill when the drug and alcohol subplot kicks in. By the half-way point, you know you're in for a tragic ending. It's all handled about as well it can be — I'm just not a fan of super-sentimental romantic tragedies. But come Oscar time, I'd like to see nominations for Gaga and Elliott, and for Cooper as director. One of the songs, "Shallow," is also a stand-out.
Academy Award: Best Song ("Shallow")
Oscar Nominations: Best Picture, Actress (Lady Gaga), Actor (Cooper), Supporting Actor (Sam Elliott), Cinematography, Adapted Screenplay, Sound Mixing