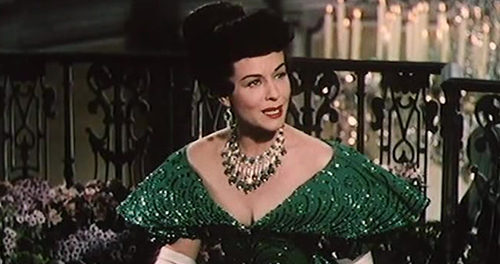 [6.5]
Paulette Goddard leads an ensemble cast in this telling of Oscar Wilde's An Ideal Husband. Goddard plays the conniving Mrs. Cheveley, arriving in London from abroad, with the intent to blackmail a politician into publicly supporting a dubious financial venture for her benefit. The politician's wife and playboy best friend rally behind him and together they each try to outwit the fiendish Cheveley. There's also a cute subplot about the best friend's relationship with a long-suffering maiden.
My first experience of this story was in the 1999 film version, which I adore and prefer over this one. The 1999 cast make their version very much more of a comedy — almost slapstick at times. The 1947 version musters a little of that energy, and of course, it still contains many of Wilde's witty one-liners. But it leans more toward being a stuffy costume drama than the ebullient comedy that the 1999 film is. This 1947 version is distinct for its extravagant costumes and unusual incorporation of visual effects to expand sets and make outdoor locations appropriate for the film's turn-of-the-century setting. Goddard is a nasty firecracker in the Chevely role (played by Julianne Moore in the 1999 version). It's obvious Moore studied the Goddard performance, which is the only one I might give the edge in any acting comparisons.
Actors might find it an interesting exercise to watch both versions of this movie to see how much performance and overall tone can make a difference in the final outcome of an adaptation.
With Michael Wilding, Diana Wynyard, Hugh Williams, and Glynis Johns.