Bad Times at the El Royale (2018)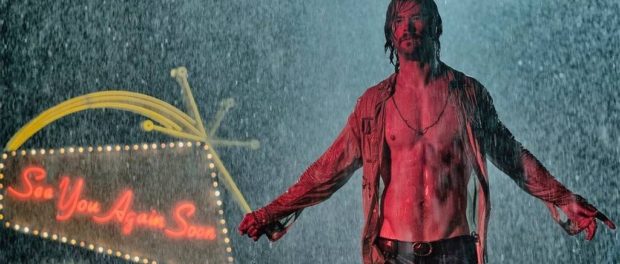 [7.5]
I very much enjoyed Drew Goddard's previous work on Cloverfield and The Cabin in the Woods, and I'm a big fan of single-location ensemble stories, so I was excited to see what Goddard had in store with Bad Times at the El Royale. Bad Times features about seven characters — the titular hotel's front desk boy and six guests — who each have a potentially dangerous secret. Goddard's screenplay is fragmented and told in non-linear fashion half the time, complete with Tarantinoesque chapter title cards. I liked the non-linear, because the withheld information gave mystery to the proceedings. Could have done without the title cards, though. The script is strong enough to hang your hat on, though I'm not completely sold on one or two exceedingly earnest moments it tries to pull off.
What makes this movie work for me is the cast, which includes Jon Hamm, Chris Hemsworth, Lewis Pullman, Dakota Johnson, and Cailee Spaeny — all doing fine jobs. But the stand-outs, the ones that kept me the most engaged with the movie, and the ones who should be remembered come Oscar season, are Jeff Bridges and Cynthia Erivo. To tell you anything about their characters would diminish the joys of experiencing this movie, but let me suffice to say their odd relationship is the beating heart of this film, and both actors have some real stand-out dramatic moments in it.
I must also give Goddard credit for abiding by my 'Hemsworth Rule': If you cast a Hemsworth in a movie, he must take his shirt off at least one time. Chris Hemsworth's shirt is never closed or buttoned once in this movie. His long, chiseled torso is on full display every minute of his screen time and it is absolutely fabulous to behold.