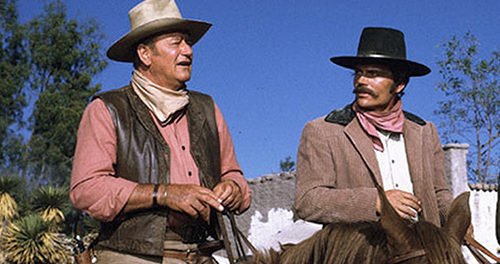 [6.0]
John Wayne stars as a crotchety loner cowboy who goes in search of the gang who kidnapped his grandson. Big Jake is not a serious western. It's more of a nostalgic love letter to old big-studio westerns. Sometimes that love undercuts the drama. Even though a boy's kidnapping is what spurs the characters into action, they begin their adventure like a trip to Disney World, complete with pageantry from composer Elmer Bernstein. Half the time I wondered if Wayne even remembered a boy's life was at stake. The overall tone of the film is just a little bit goofier than I would have liked.
But it's still a fun movie, especially in the interactions between Wayne's character and his estranged adult sons. All three are reunited for the adventure, and there's a lot of pent-up aggression coming from the boys. Wayne, of course, cuts them down to size, usually with comedic results. One of the sons is played by Wayne's real-life son, handsome-as-fuck Patrick Wayne. The grandson is played by another of Wayne's children, Ethan Wayne, and the film is co-produced by Michael Wayne. While the familial camaraderie occasionally shows, it never rivals the potent male bonding found in Wayne's work with Howard Hawks (see Red River and Rio Bravo).
Maureen O'Hara brings a bit of gravitas to early scenes, playing the family's beleaguered matriarch. Dog lovers will appreciate the important role of "Dog," Wayne's obedient four-legged companion. With Richard Boone, Bruce Cabot, and Harry Carey, Jr.