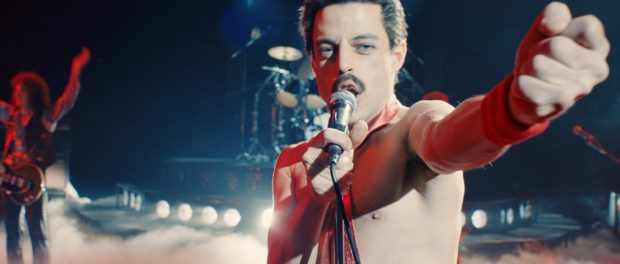 [8.0]
Rami Malek stars as Freddie Mercury in Bryan Singer's (X-Men, Valkyrie) biopic about the formation and explosive success of rock group Queen. The film centers primarily around Mercury — his estranged relationship with his family, his homosexuality, his drug use, and eventual battle with AIDs — but without ignoring the other members of the band, played by Gwilym Lee, Ben Hardy, and Joseph Mazzello (Jurassic Park). Malek is very good as Mercury, giving his performance both the wild, kinetic energy and quiet, emotional resonance that make up the whirlwind that is Freddie Mercury. He's a shoe-in for an Oscar nomination.
For a film running two hours and change, I never once felt bored. Bohemian Rhapsody moves at a quick pace and finds a terrific narrative through-line to hang its hat on — Freddie's desire to make a family where he can belong. The movie got me emotionally, which I wasn't expecting. And not just in the obvious ways — like when Singer plays "Who Wants to Live Forever" over Freddie's visit to the doctor and a casual recognition from a fellow AIDs patient. I was also moved by the band's camaraderie and the interaction between the band and their audiences. Queen represented the freaks and underdogs of the world, so when hordes of people start singing the band's lyrics back at them, it means something powerful.
Mike Myers is entertaining in a supporting role and Singer regulars Newton Thomas Sigel and John Ottman work magic with the photography and editing, respectively. And if you love the music of Queen, this film has to be the next best thing to seeing them live in concert. All of the hits are featured without bringing the story to a halt, and some of the concert sequences are positively thrilling. Bohemian Rhapsody works amazingly well as a hybrid drama and concert film — far better than I ever expected. It's exciting, it's moving — it's one of the best movies of the year. With Tom Hollander and Aidan Gillen (Game of Thrones).
(Note: Bryan Singer retains full directing credit for Bohemian Rhapsody, but it is well publicized that he was fired from the film by Twentieth Century Fox near the end of production and another director, Dexter Fletcher, was brought in to finish the shoot and oversee post-production.)
Academy Awards: Best Actor (Malek), Film Editing (John Ottman), Sound Mixing, Sound Editing
Oscar Nomination: Best Picture