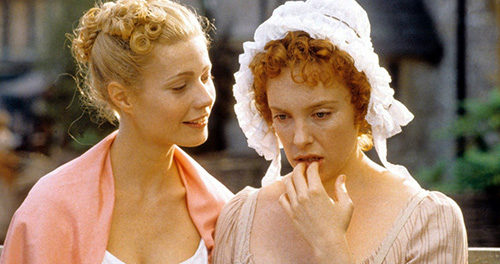 [5.0]
Gwyneth Paltrow stars as the title character in this adaptation of Jane Austen's Emma. Emma Woodhouse takes it upon herself to be a matchmaker for all her friends and neighbors. While her interference tends to do more harm than good, Emma fails to notice that her own opportunity for courtship may be just under her nose.
Director Douglas McGrath (Nicholas Nickleby) abides by Miramax Pictures' template for costume dramas in the 1990s. The English countryside is drenched in golden sunlight, flowers are blooming everywhere, and Rachel Portman's precious strings float us from scene to scene. That idyllic beauty is at times all that kept me hooked to Emma. I'm not a big Gwyneth Paltrow fan and she left me cold here yet again. I'm also not a fan of Jane Austen's work, always exploiting the minute crises of rich, snobby women maniacally driven to get married, only to die a few years later from consumption. (Granted, no one dies this time.)
Jeremy Northam probably gives the film's most compelling performance as Paltrow's moral adversary and would-be lover. Everyone else is acting in caricature to a point that undercuts any attempt for the film to take itself too seriously. Toni Collette's talent is wasted in a one-note role. Ewan McGregor and Alan Cumming also appear.
Academy Award: Best Score (Rachel Portman)
Oscar Nomination: Best Costume Design