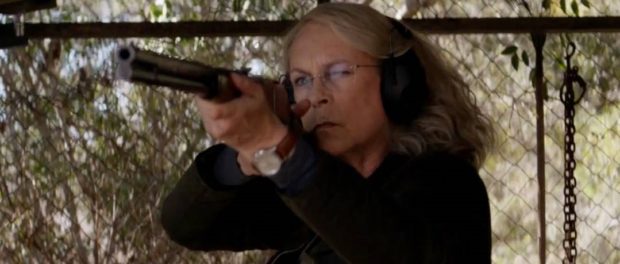 [6.5]
Jamie Lee Curtis returns to the franchise that launched her career in Halloween (same title, 40 years apart). This new film ignores every single sequel in the franchise and serves as a direct follow-up to John Carpenter's original 1978 film. And it's just as well, because the Halloween 'franchise' is shaky at best. Curtis' teenaged babysitter from '78 is now a gun-toting grandma whose lived the last forty years preparing for serial killer Michael Myers' eventual escape from prison.  Her daughter was taken away from her by child protection services and the community has pretty much written her off as a paranoid looney. Until, of course, Michael Myers actually does escape from prison to begin an all-new killing spree.
Director David Gordon Green (Joe, Pineapple Express) and co-writer Danny McBride steer clear of all the 'in your face' stylistic bullshittery of contemporary horror filmmaking and set a decidedly nostalgic tone by adhering to old-school script formula and the classical invisible Hollywood style. God bless them. The first half of the film builds beautifully and promises to be a wonderful showcase for Curtis. But the second half of the film doesn't quite deliver on that promise. I wanted more Curtis. I wanted her to have an opportunity like Linda Hamilton had in Terminator 2 or Sigourney Weaver did in Aliens. I wanted to see the fury of 40 years of scorn unleashed upon this Michael Myers demon. Curtis could have delivered something Oscar-worthy if she had the opportunity. Instead, the film loses sight of her character for about 20 or 30 minutes in the middle. Every time the sheriff, the doctor, the daughter, or the granddaughter were on screen, I just wanted them to shut up so we could get back to Jamie Lee.
Gripes aside, this Halloween is made with quality and care, and is probably one of the best studio franchise horror movies in a long time. With Judy Greer, Andi Matichak, Nick Castle, and Will Patton.