Move Over, Darling (1963)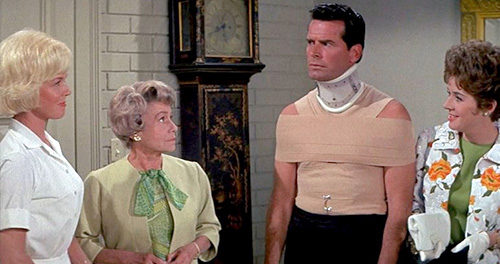 [6.5]
Doris Day and James Garner star in this remake of 1940's My Favorite Wife, about a woman (Day) who returns home after five years lost at sea only to discover she's been declared dead and her husband (Garner) has remarried. Move Over Darling is a non-stop comedy of errors centered around a series of misunderstandings. First there's the shock of learning Day is still alive, and then there's breaking the delicate news to Garner's new wife (Polly Bergen). To make matters worse, we also learn Day wasn't alone at sea — she was with a very attractive fellow survivor (Chuck Connors) who exaggerates the truth about what happened for his own fame and fortune.
Day and Garner are up to the task here as much as Cary Grant and Irene Dunne in the original version. Highlights include Garner's escalating excuses for not making hanky-panky with Bergen on their honeymoon and Day's trip through a car wash in an open convertible. Supporting players got the biggest smiles from me, though. Edgar Buchanan has two scenes at the beginning and end of the film as a cantankerous judge. Don Knotts is wonderfully smarmy as a shoe salesman that Day picks up to try and make Garner jealous. And Fred Clark is memorable as the shocked hotel manager who learns Garner has rented two rooms with two different women at his establishment.
Move Over Darling is colorful, ham-fisted, energetic, and sentimental (especially where Day and Garner's young children are concerned!) The world is too jaded for such a goofy movie to be made anymore. I found it to be a bit of fresh air.
With Thelma Ritter and John Astin.