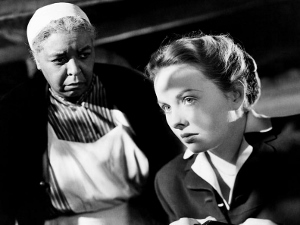 [6.5]
Elia Kazan directs a trio of Oscar-nominated performances in this adaptation of the Cid Ricketts Sumner novel. Jeanne Crain (State Fair, A Letter to Three Wives) stars as Pinky, a light-skinned African American woman returning to her impoverished southern hometown after finishing nursing school in the north. Her pious grandmother (Ethel Waters) insists that Pinky take care of the dying rich white woman who lives next door (Ethel Barrymore), but Pinky resists. Pinky also keeps a secret from granny — that she's fallen in love with a white man up north who doesn't know she's African American.
I was worried the film would focus on the love relationship and force me to watch William Lundigan struggle with whether or not to marry a black woman who looks white. Fortunately, his scenes are limited and Pinky opts instead to define its title character through her own actions, rather than her romantic liaisons. When Barrymore's character dies and leaves her plantation to Pinky, the town goes into an uproar and a jealous relative tries to contest the will. Pinky turns out to be a movie about sista's doin' it for themselves — granny works her ass off to put Pinky through school, Pinky and granny both work their asses off to take care of the old woman and pay for their court trial, and despite her white priviledge, the old woman is looking out for both Pinky and her grandmother. The token dude, Lunidgan, even gets the axe in the end — not because of racism, but because he wants Pinky to subjugate her life to his.
Crain, Waters, and Barrymore are each solid in their roles, and I was also impressed by the immense sets, art direction, and wardrobe.
Oscar Nominations: Best Actress (Jeanne Crain), Best Supporting Actresses (Ethel Barrymore, Ethel Waters)