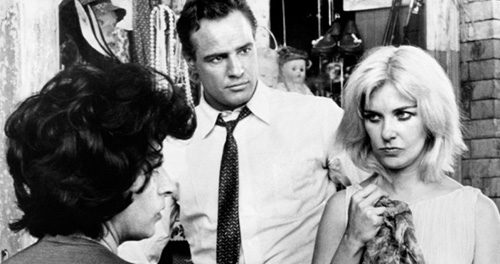 [7.0]
Marlon Brando stars in Sydney Lumet's adaptation of Tennessee Williams Orpheus Descending. (Williams co-wrote the screenplay with Meade Roberts.) Brando plays a young man trying to shed his criminal background and start a new life in a new town. But the new town has three women in it who all find Brando alluring. Joanne Woodward plays the reckless party animal, Maureen Stapleton plays the daffy sheriff's wife, and Anna Magnani plays the stifled store-owner who's just waiting for her abusive husband to die before she, herself, can start anew. Brando keeps the first two women at bay, but succumbs to an affair with Magnani. Unfortunately for them, they're characters in a Tennessee Williams play, so brace yourself for tragedy.
I'm not sure what to make of Brando in this movie. He's very subdued and almost half asleep part of the time. I wish he'd have given his performance more peaks and valleys. The real stars here are Magnani and Woodward. Both are electric and Oscar-worthy in roles ripe with yearning and desperation.
The Fugitive Kind never fully escapes the talkative nature of its stage play roots, but when the story expands outside the central store location, cinematographer Boris Kaufman (On the Waterfront) makes it memorable. Especially beautiful are scenes in which Brando and Woodward visit a grave yard at night, and when Magnani stands in her illuminated wine garden for the first time.