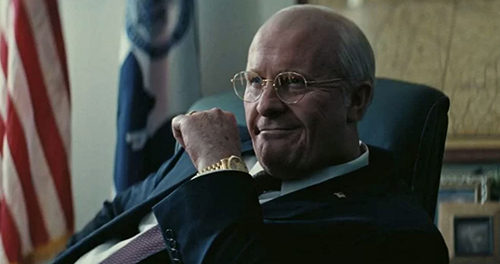 [8.0]
Christian Bale once again transforms himself completely to become former vice-president Dick Cheney in Adam McKay's (The Big Short) new film, Vice. The film is a pastiche of Cheney's political career, driven in large part by his relationship with wife Lynne (Amy Adams) and daughters Liz and Mary. McKay is careful to keep Vice a pitch-black comedy at all times, but he also does a brilliant job telling the Machiavellian story of how Cheney rose to power. You'll meet a lot of people on his journey to power, and if you're like me, there'll be a lot of familiar names, faces, and events. And maybe you'll find it fascinating how everyone and everything fits together — almost according to some sinister plan.
Bale disappears inside the role. Adams is — as always — a worthy sparring partner. Sam Rockwell does justice the role of George W. Bush, while Steve Carell shines as Donald Rumsfeld. Vice moves briskly, moving back and forth in time. There is never a dull moment. It succeeds impressively well at being both entertaining and highly informative.
The film ultimately suggests that Cheney is a deeply private man who has crept around in the background of the news for decades doing more damage than we yet realize. It also portrays him as a loving family man. The sacrifices he made to keep gay daughter Mary away from public scrutiny suggest he may have once been a human being. Once, anyway.
Vice will make you chuckle, and that's great — if we didn't laugh about it, we'd surely be crying. But the film should horrify you with Cheney's abuses of power, how he's repeatedly warped our government to his will, was allowed to be a shadow president behind George W. Bush, how he sent our troops into battle for little more than his own private gains, and how he's — at least so far — gotten away with it all.
Look for Tyler Perry as Colin Powell and Alfred Molina in an un-credited cameo.
Academy Award: Best Makeup & Hairstyling
Oscar Nominations: Best Picture, Director, Actor (Bale), Supporting Actress (Adams), Supporting Actor (Rockwell), Original Screenplay, Film Editing