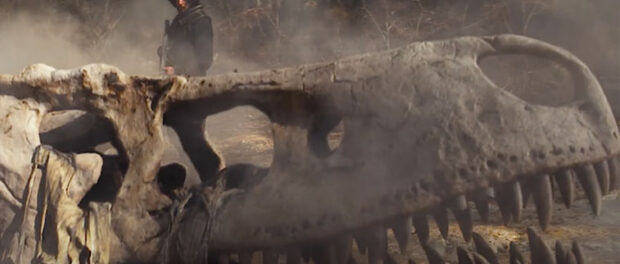 [6]
Adam Driver stars as an astronaut from another world who crash-lands on Earth 65 million years ago. Along with a young girl (Ariana Greenblatt) who speaks another language, he must pass through a prehistoric valley full of dangers big and small to reach his escape pod before a massive asteroid collides with the planet — the very one that caused mass extinction of the dinosaurs.
I have no problems with 65. You want a monster/survival movie? Here's a monster/survival movie. It's an old-fashioned action-adventure that moves at a good pace and delivers its fair share of thrills, even if there's little here we haven't seen in a Jurassic Park movie already. The newest element is one that seems to be hitting the zeitgeist lately — the notion of a father figure and his surrogate child that we've seen played out in The Last of Us and The Mandalorian. 65 mines this device for emotional resonance, threatening to get maudlin, but fortunately it never does. It helps that the characters don't share a common language to speak any sappy dialogue. Still, I could have done without the father/child angle and enjoyed 65 at its most bare-bones level. It's an entertaining ride — nothing more, and nothing less. You wanna crash on prehistoric Earth and try surviving the night? If so, check it out.
Written and directed by Scott Beck and Bryan Woods (writers of A Quiet Place).