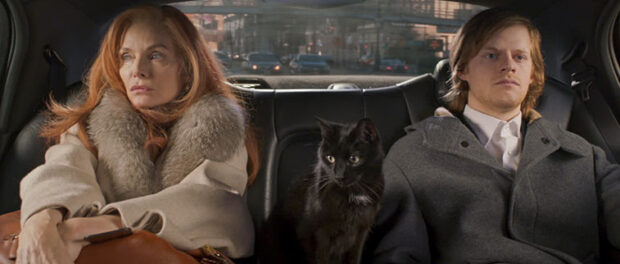 [4]
Michelle Pfeiffer and Lucas Hedges play a rich mother and son who are forced to leave their fancy New York home for a friend's apartment in Paris when they discover their bank account is nearly empty. Once there, Pfeiffer's character plans to kill herself when their last dollar is spent, while Hedges' character pines for the gal he left behind in the Big Apple. The two serendipitously acquire an odd group of friends who live with them, including a lonely widow, a clairvoyant, and a private detective.
French Exit is odd and creates a cool vibe for a while, with Pfeiffer's devil-may-care attitude garnering some dark laughs. She drugs her cat and hides it in her handbag to sneak it through French customs, and when a waiter makes her wait too long, she casually sets fire to the table centerpiece. But the film's quirky charm never gives way to anything meaningful, and the story meanders until its momentum completely peters out. The later half of the movie centers around Pfeiffer's belief that her cat is possessed by her late husband (voiced by Tracy Letts). This culminates in an actual séance with the possessed cat, after which the film is apt to lose most viewers.
There might be a kernel of something real and grounded to glean from the story's mother/son relationship, but French Exit is so aloof and decidedly weird, that you'll probably never feel inclined to harvest it.
Based on a book by Patrick DeWitt; directed by Azazel Jacobs. With Valerie Mahaffey and Imogen Poots.