You Can't Take It With You (1938)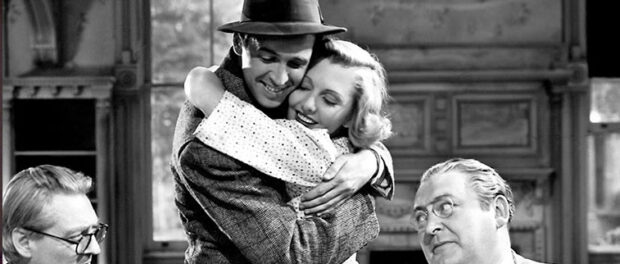 [7]
James Stewart plays the son of a Wall Street tycoon whose father (Edward Arnold) is trying to force an eccentric family out of their home so he can pursue a major real estate development deal. Things get more complicated when Stewart realizes the family in question is his fiancée's (Jean Arthur). You Can't Take It With You is a quintessential Frank Capra movie, focusing on the struggle between the working man and corporate progress, greed versus humanity. I would argue that message works less successfully in this film than in other Capra movies like Mr. Smith Goes to Washington or It's a Wonderful Life.
The film starts out a charming love story between Stewart and Arthur, who have terrific chemistry together. It reaches comic highs when Stewart's parents come to visit Arthur's whacky family for a dinner that goes quickly off the rails. But after that centerpiece sequence, Capra pushes Stewart's and Arthur's characters to the background and focuses on the thematic power play between Arnold's banker character and Arthur's whimsical, philosophical father (Lionel Barrymore). The film loses its way at that point and grows uncomfortably didactic and far-fetched.
These are usually obstacles Capra avoids with aplomb, but they don't keep the film from being enjoyable. There's plenty of warmth and good humor throughout, especially with the aforementioned early chemistry between Stewart and Arthur, and later with Lionel Barrymore and Edward Arnold at their type-cast best. With Spring Byington, Donald Meek, Ann Miller, and Dub Taylor.
Academy Awards: Best Picture, Director
Oscar Nominations: Best Supporting Actress (Byington), Screenplay (Robert Riskin), Cinematography (Joseph Walker), Sound Recording, Film Editing