The Banshees of Inisherin (2022)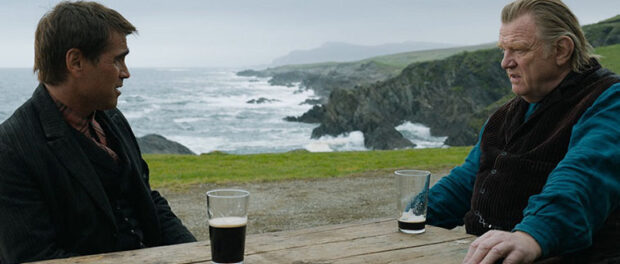 [7]
In Bruges co-stars Colin Farrell and Brendan Gleeson are reunited with writer/director Martin McDonagh (Three Billboards Outside Ebbing Missouri) for this intimate tragicomedy set on a rocky island off the west coast of Ireland in the 1920s. Farrell's character is a well-liked dullard who discovers one day that his life-long best friend (Gleeson) wants nothing more to do with him. Farrell is naturally upset, especially since he's given no explanation. As he pushes Gleeson, Gleeson digs in — with increasingly horrifying results that make Farrell question how much longer he can continue being a 'nice guy'.
McDonagh's previous films have been interesting and provocative, but The Banshees of Inisherin is decidedly a more withholding film. For most of the film's duration, I enjoyed what it seemed to be saying about our desire for human connection when we're seemingly unable to achieve it. I enjoy the unpredictability of McDonagh's writing, but I feel like this film has a but if an identity crisis — one that perhaps could have been solved with a stronger, more determined ending.
Even still, it's a joy to see Farrell and Gleeson in a movie together again. Their chemistry is an odd but undeniable one. Farrell is especially strong here, maybe even awards-worthy. Kerry Condon gives a strong supporting performance as his beleaguered sister, and Barry Keoghan (Dunkirk) is memorable as a dim-witted teen who pines for her. The crashing waves and steep cliffs of the Irish locations are another highlight of this weird but often beautiful little movie I'm tempted to call a horror-comedy.
Oscar Nominations: Best Picture, Director, Original Screenplay, Actor (Farrell), Supporting Actor (Gleeson), Supporting Actor (Keoghan), Supporting Actress (Condon), Score (Carter Burwell), Film Editing