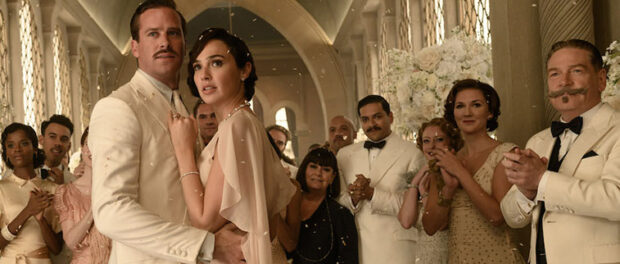 [7]
Kenneth Branagh directs and stars as Agatha Christie's Hercule Poirot in this most recent iteration of Death on the Nile. Poirot is on vacation in Egypt when he's asked to join a wealthy socialite's honeymoon party down the river Nile in the late 1930s. When the socialite (Wonder Woman's Gal Gadot) is discovered dead, Poirot is back on the case. Was it her husband (Armie Hammer)? Her servant (Rose Leslie)? Her godmother (Jennifer Saunders), or her godmother's nursemaid (Dawn French)? Other suspicious cast members include Annette Bening, Russell Brand, Tom Bateman, Letitia Wright, and Emma Mackey.
Branagh directs this mystery as though it were a comic book movie, with hyper-stylized art direction and camera movements. The film constantly draws attention to itself, but somehow, it works better that way — accentuating the artistry of mystery making and perhaps nodding to the preposterousness of it all. The computer-generated backgrounds sometimes feel cheap, cutting into the film's escapist value. But there's no cheapening with the killer (pun intended) casting. Branagh gets to deepen Poirot's character just a tad with some carefully chosen back story. Hammer and Gadot get the meatier parts, but everyone gets their moment in the sun. Sophie Okonedo (Hotel Rwanda) steals the show as a blues singer (and suspect, because everyone is) to whom Poirot is awkwardly attracted. And as a fan of French and Saunders, I couldn't be more grateful for their paired inclusion in this ensemble.
If you think murder mysteries are a dry, slow affair that should be confined to public television, let Kenneth Branagh challenge your assumptions. It's not a great film by any means, but once Gadot's body is placed in the ship's meat locker, Death on the Nile is an entertaining trip.