Avatar: The Way of Water (2022)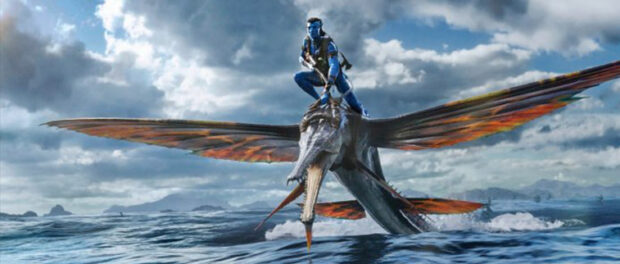 [6]
Writer/director James Cameron (Titanic, Aliens) returns to the world of Pandora thirteen years after the first Avatar film broke all box office records. Jake Sully (Sam Worthington) now lives completely among the planet's tall, blue natives – the Na'vi. He and Neytiri (Zoe Saldana) are raising four children, including Kiri (Sigourney Weaver), who has a mysterious, powerful connection to all life on Pandora. They've also practically adopted a human boy named Spider (Jack Champion), whose father turns out to be Quaritch (Stephen Lang), the villainous military leader from the first film.
Quaritch is now a Na'vi avatar, his human form having died at the end of the first film. He still works for the evil corporation intent on plundering Pandora for its natural resources, and spends a lot of his spare time hunting Sully and Neytiri. This drives Sully and his family away from their land-and-air clan and across the planet to a water-dwelling clan that begrudgingly take them in — despite the danger it brings.
For all the plot squeezed into Avatar: The Way of Water's three-hours-plus runtime, it's a pretty simple story. Jake and Neytiri just want to protect their family, and while they're chased, they take us on an adventure learning the ins and outs of a new, exotic world within Pandora's environment. The film succeeds very well as an escapist adventure, with as many visual wonders and visceral thrills as the first film. However, it works far less well as emotional, character-based storytelling, and, curiously, does very little in setting up additional films that have long been promised.
The film focuses less on Jake and Neytiri, making them more of an ensemble with their children and Spider. Everyone's character development is surprisingly anemic given the length of the movie. But that doesn't mean it's devoid of emotion. Cameron hits the ecological angle with full, well-intended force. When Quaritch and the bad guys are chasing and killing a whale-like creature and its baby calf, you'll cry if you have any heart at all. The Na'vi characters' reactions to this event fuel the last, action-packed half of the movie, which even in its best moments feels a lot like the last film. (It even feels like Titanic when the characters are trying to escape a sinking vessel.)
The Way of Water doesn't break any molds. But it works as entertainment, and it's gorgeous to look at. Emotionally, the story and characters are less engaging than before. But if you have a reverence for life, you may still find the movie intrinsically moving. It struggles to justify its unusual length, though, and we're left wondering what story angles are possibly left to cover in three already-reported sequels?
With Kate Winslet and Cliff Curtis.
Academy Award: Best Visual Effects
Oscar Nominations: Best Picture, Sound, Production Design