[5]
SPOILER REVIEW
I really liked
American Beauty
when it was first released. Maybe I was wooed by its quirky introspection and aesthetic achievments
.
Or maybe it was screenwriter Alan Ball's fresh new way of blending the real with the surreal. Or even the meditative lilt of Thomas Newman's trend-setting score. But whatever the reason(s), watching the film ten years later, I realize --
American Beauty
ain't all that. It's kinda whack.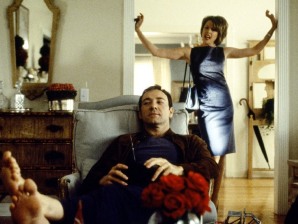 It's still a gorgeous film to look at, featuring outstanding production design, cinematography, and music… but what the hell is this movie trying to say? Not that every movie has to have a message, but with all its blatant symbolism and caricature, it begs to be mined for meaning. I'm just not sure what to take away from it. Find beauty before you die?
What bothers me most is how unsavory Kevin Spacey's main character is — he lusts for his daughter's teenaged friend, and his last-minute decision NOT to pop her cherry is supposed to be a transformation worthy of our applause? I also don't know what to make of Annette Bening's character. She's clearly a control-freak, but I don't see what would ever make her consider killing her husband. Any meaning or purpose to her character seems to be squandered in the film's bizarre ending. Bening does her very best with the part, though.
Spacey's performance is hit and miss. He's good when he's put upon and upset, but his moments of bliss come off forced and phoney. Good supporting turns from Chris Cooper, Thora Birch, and Wes Bentley… but still: what does it all mean? Is a bag floating around in the wind really the most beautiful thing we've ever seen? Is American Beauty sublime or silly?
The film won five Academy Awards, including Best Picture, Director (Sam Mendes), Actor (Spacey), Cinematography (Conrad Hall), and Original Screenplay (Alan Ball). But I can't help but wonder if the Academy also drank the Kool-Aid that year…