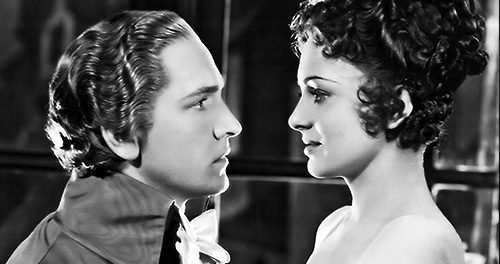 [6]
In 18th century Italy, an orphan boy comes of age with the help of nuns and a kindly mentor, falls in love, gets embroiled in the slave trade, and fights for his inheritance in this adaptation of Hervey Allen's sprawling novel. Anthony Adverse looks and sounds great, with immense sets, period costumes, and a rich score by Erich Wolfgang Korngold. Some of the supporting players are also memorable — particularly Edmund Gwenn as the kindly mentor and Claude Rains as the dastardly schemer who is not only responsible for the boy's orphan-hood, but for claims to his inheritance as well.
The screenplay is incredibly episodic, so much so that title cards come on-screen every twenty-to-thirty minutes to set up the new scenarios. Connection between some of the storylines is tenuous at best. The only thing that could hold our attention across all the episodes, across the planet, and throughout the title character's life, would be the film's leading performance. And unfortunately, Fredric March isn't up to the task. Perhaps its because the script favors advancement of plot over vital character development. Perhaps it's because, frankly, he's too old for the part and looks too intimidating to engender our sympathy. Either way, there's no charisma in the film's title character and this kept me from getting engaged in the storytelling.
Olivia de Havilland plays March's lover, and the third act contains some of the film's best moments as the two reunite after a long absence and learn new things about each other. Gale Sondergaard won the Best Supporting Actress Oscar playing Claude Rains' prune-faced co-conspirator.
For a better film with a similar story line, check out the highly under-rated Nicholas Nickleby.
Academy Awards: Best Supporting Actress (Sondergaard), Film Editing, Cinematography, Music
Oscar Nominations: Best Picture, Art Direction, Assistant Director