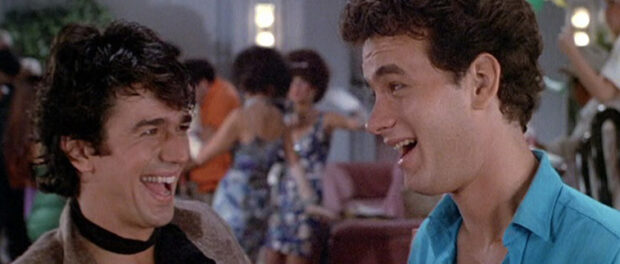 [6]
Tom Hanks made the leap from TV star (Bosom Buddies) to film star with this raunchy sex comedy about a soon-to-be-married man who must resist temptation while his friends throw him a bachelor party. Hanks' all-American boy scout personality shines through in Bachelor Party, so you never have to worry that he would ever betray his fiancée's wishes and succumb to temptation. But he's the only one who stays squeaky clean amidst the chaos. Bachelor Party spirals more and more out of control as it goes, and it doesn't end until the mule literally overdoses on cocaine.
Like many comedies made before the age of social enlightenment, some jokes haven't aged well. Nearly four decades later, it's interesting to see how rigidly gender and racial stereotypes are adhered to. But in historical context, Bachelor Party is good hearted at its core. While a stag party is the premise, I was happy to discover that the movie itself is not. The female characters, including Tawny Kitaen as Hanks' bride-to-be and Barbara Stuart as her mother, get a hefty amount of screen time and an equal share of the laughs. Highlights include their visit to an all-male revue where Stuart is served a special 'hot dog'.
Comedy is hard, but director Neal Israel (co-writer of Police Academy and Real Genius) keeps the film charging along, full of jokes and sight gags, without ever stifling Hanks breezy charm. Valuable supporting players include Wendie Jo Sperber (Back to the Future), prolific TV actor George Grizzard, Robert Prescott, and Bradford Bancroft. With Adrian Zmed and Michael Dudikoff.