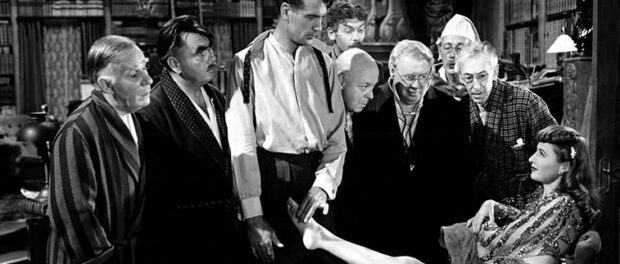 [8]
Gary Cooper and Barbara Stanwyck star in this lively screwball comedy from director Howard Hawks. Cooper is working on a new encyclopedia with seven other scholars when he realizes the group is woefully uneducated in the world of contemporary slang. So he hits the streets to research and stumbles upon a wisecracking lounge singer named Sugarpuss O'Shea, played by Stanwyck. He invites her to educate him and his colleagues, and since her mobster boyfriend is in hiding and the police are snooping for her, she takes Cooper up on his offer.
The magic of Ball of Fire happens when Stanwyck crashes the all-male household of socially awkward fuddy-duddies and gives them a whole new outlook on life. By her mere presence, she rekindles their long-dormant sexualities. And when she drags them into her entanglements with the mob and police, their quiet days of study become quite an adventure. Cooper and Stanwyck are at the top of their game and show remarkable chemistry. This is perhaps my favorite of all Stanwyck's performances. Watching her force men out of their comfort zones is quite a joy to behold.
The intricate plot becomes a little overbearing in the final act, nearly stamping out the comedy. The script, cowritten by the great Billy Wilder (Sunset Boulevard, Double Indemnity), asks us to take a few too many leaps in character development where Cooper and Stanwyck's budding romance is concerned. But while it's not as consistently superlative as Hawks's Bringing Up Baby, when Ball of Fire works, it's indelibly charming. With Oskar Homolka, Henry Travers, S.Z. Sakall, and Dana Andrews.
Oscar Nominations: Best Actress (Stanwyck), Original Story (Thomas Monroe, Billy Wilder), Sound Recording, Music (Alfred Newman)