Coal Miner's Daughter (1980)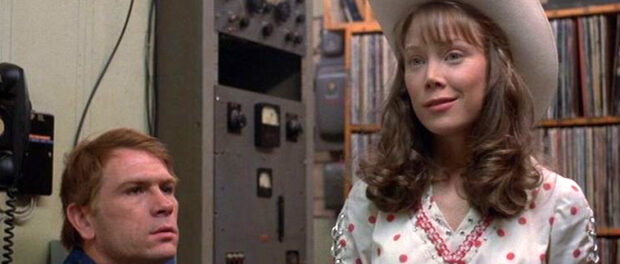 [7]
Sissy Spacek took home the Best Actress Oscar for her portrayal of Loretta Lynn in this dramatization of the country singer's rags to riches story. Tommy Lee Jones co-stars as her husband 'Mooney', who encouraged her to pick up the guitar, sing, and produce records. Their relationship, warts and all, is the heart of the film. It's tested through poverty, young marriage, several children, the struggle to get Lynn's career going and the ability to weather the storms of success.
In its broad strokes, Coal Miner's Daughter is a lot like other showbiz success stories, but Spacek and Jones make it feel fresh and exciting in two career-best performances. Beverly D'Angelo makes a noteworthy supporting performance as Patsy Cline, who became a friend and mentor to Loretta Lynn. What most distinguishes the film is its honest depiction of impoverished coal country. Director Michael Apted (Gorillas in the Mist, Thunderheart) may be one of the first filmmakers to present Appalachia in a realistic, respectful manner — a place where people literally kill themselves to put food on the table, where the ability to sing or dance brings a smile to your family's faces, and where things like the Grand Ole Opry are truly legendary.
One of the ways a film can succeed is by transporting you to another time or place, or into the lives of others. Coal Miner's Daughter is an eye opener for anyone unfamiliar with coal country or its inhabitants who are so often parodied in popular entertainment. At one point in the movie, Jones jokingly calls Spacek 'stupid', and she's quick to respond, "I may be ignorant, but I'm not stupid!" It's a difference well worth pointing out, with dignity hanging in the balance. Loretta Lynn's self-driven success is cause enough for cinematic celebration, but Coal Miner's Daughter's ability to reflect back on a proud, hardworking, and oft neglected part of America is an even bigger achievement.
Academy Award: Best Actress (Sissy Spacek)
Oscar Nominations: Best Picture, Adapted Screenplay, Film Editing, Sound, Art Direction, Cinematography