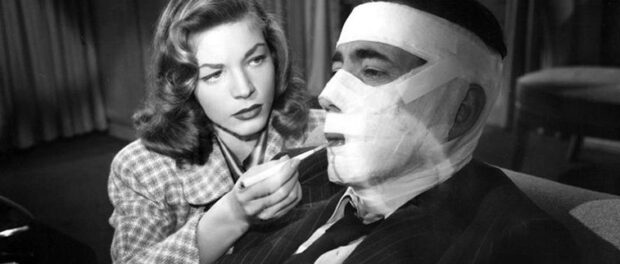 [7]
Humphrey Bogart escapes from San Quentin to try and prove he's innocent of killing his wife. Lauren Bacall plays the woman who believes him and gives him shelter. He resorts to plastic surgery to hide his identity from the police and extortionists, but will he be able to discover who the real killer is? Or will he be forced to flee the country?
Dark Passage is an interesting Bogart vehicle for its reliance on first-person point of view photography throughout the first third of the story, all leading up to Bogey's plastic surgery. The gimmick might become annoying if it didn't mean we were looking at the beautiful Lauren Bacall for much of that time. And then after the surgery, Bogart's character is mute until his wounds heal and the bandages come off. So we only see and hear him in the film's final third, as he sets out to clear his name. The gimmick works largely because the interacting supporting cast members are on their game — not just Bacall, mesmerizing as she addressing the camera directly, but also Rory Mallinson as Bogey's only good friend in the world, Tom DeAndrea as a curious cabbie, and especially Houseley Stevenson as the disbarred plastic surgeon.
Any pairing of Bogart and Bacall is going to be worth a gander, even if Dark Passage is an uneven outing for the duo. The plotting is incredulous and the screenplay has a difficult time balancing the romance with a mystery/thriller plot that never really takes off. But if you suspend your disbelief, you can still have a fun time hanging out with Bogey and Bacall in a movie that takes full advantage of scenic San Francisco. There's also a nice, visceral surprise near the end. With Agnes Moorehead and Bruce Bennet, and a solid score as usual from Franz Waxman. Adapted from a novel and directed by Delmer Daves (A Summer Place).