Gentlemen Prefer Blondes (1953)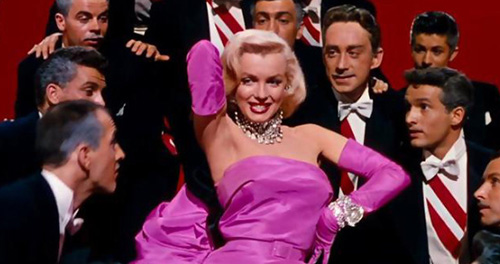 [8]
If you told me I'd enjoy a movie about a unabashed gold-digger and her showgirl best friend traveling to Paris while trying to pull the wool over the eyes of a private detective attempting to catch one of them in an act of infidelity to his client's son — I'd have said probably not. But it turns out the gold-digger is played by the charismatic Marilyn Monroe and the movie is directed by the incredible Howard Hawks (Rio Bravo, Bringing Up Baby), working in a genre he helped create — the screwball comedy. Okay, now I'm interested.
Monroe is absolutely cast for her looks in this movie, but she also gives a passable performance and manages to get a fair number of her own laughs. She's the 'looker'. But she's far outshined (in my opinion) by Jane Russell. Russell plays her more — how shall we say it… intelligent? showgirl companion. Monroe loves money and Russell couldn't care less about it. But when the two discover there's a spy trying to get dirt on Monroe during their trans-Atlantic adventure, they work together to keep Monroe's character on the up-and-up. I thought I'd hate Monroe's shallow character, but she makes it hard for me. At least she's honest about her aims. And when someone challenges her on the matter, she's quick to offer a double-standard whereby men are allowed to obsess over pretty women while women are not allowed to obsess over wealthy men. So, okay. I'll go with it.
And I'm glad I did. Because Gentlemen Prefer Blondes is a lot of fun. I love goofy screwball comedies, but after the 1950, it gets increasingly harder to find a good one. Monroe and Russell are a hoot together, especially when holding court at dinner with adoring male travelers, or when trying to get the private detective drunk enough to steal incriminating photos from him. Hawks proves yet again to be a versatile master of his craft, especially in a couple of colorful and arousing musical numbers — including "Bye Bye Baby", in which Russell struts and poses amid a myriad male athletes in short shorts (!!!) and, of course, the now-iconic "Diamonds Are a Girl's Best Friend," featuring Monroe in a hot pink dress flanked by men in tuxes.
With Charles Coburn and Elliott Reid.