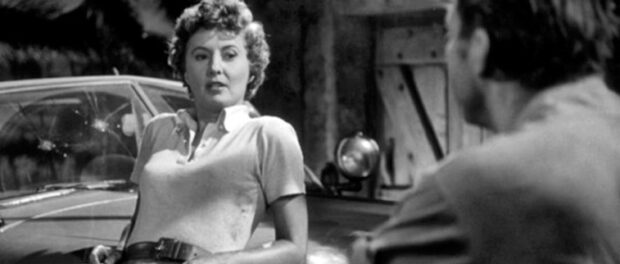 [6]
Barbara Stanwyck stars in this intimate thriller from director John Sturges (The Great Escape, The Magnificent Seven) about a woman who is kidnapped by an escaped convict (Ralph Meeker) while trying to find help for her husband. While the husband (Barry Sullivan) is trapped under debris on a beach with rising tide, Stanwyck comes to realize her only means of saving him might be to woo her captor with her feminine wiles.
Jeopardy starts out leisurely enough before turning into a vacation-turned-disaster movie. It doesn't really become interesting, however, until Stanwyck meets Meeker. At first she tries to fight him with strength and smarts. When those efforts don't pan out for her, the film takes a turn into more familiar Stanwyck territory — film noir. It's in the shadows of an abandoned home in rural Mexico with a prerequisite lit cigarette in hand, when Babs promises to run off with her captor if he'll just help save her husband's life first. The relationship between Stanwyck and Meeker becomes pleasantly unpredictable from that point onward.
The family dynamic between Stanwyck, Sullivan, and their young son (Lee Aaker) is overly precious and you may have to suspend your disbelief that Stanwyck can't escape at a couple of opportune moments, but at least Jeopardy comes together in the end. The weird, uneasy alliance Stanwyck strikes with Meeker coats the finale in satisfying suspense. It almost makes you wish the two had met earlier in the film and could take the story further.