Jumanji: The Next Level (2019)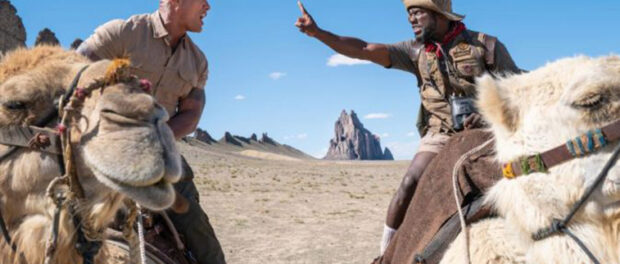 [6]
There's a certain kind of movie that is really hard to review. This is one of those movies. It's a studio movie, formulaic in structure and unremarkable in substance, but entertaining in laughs and thrills and a great vehicle for a charismatic cast. Marvel has hooked onto this. I think Sony/Columbia has as well with their new rebooted Jumanji franchise.
So there's a video game, kids get sucked into, and inside the game they're played by avatars — Dwayne "The Rock" Johnson, Jack Black, Kevin Hart, and Karen Gillan play those avatars and are the real stars of the franchise. And in the game world, if you die three times, you die in real life. In the broad strokes, this sequel is a retelling of the original story, but twisted just enough to make a second trip to the well worth your while.
The kids don't end up playing the same avatars this time. So the jokes and personalities are a bit more varied. Many of the laughs come from Johnson and Hart playing two old men (the grandfather of one kid and his grandfather's old business partner). The jock is stuck in Jack Black's flabby body, and at one point, the prissy girl is a horse. Jumanji: The Next Level succeeds almost wholly because of this body-swapping component and the talent involved in bringing these avatars to life.
Director Jake Kasdan gives us two memorable action sequences — one involving ostriches in the desert, and another involving crazed mandrills on moving rope bridges. Adorable Nick Jonas is back to, hell, just look adorable, I guess. New supporting cast members help bring color to the proceedings — Awkwafina, Danny DeVito, and Danny Glover chief among them. This formula may get old eventually, but I think if they're careful, Sony might get one or two more worthwhile installments in this franchise.