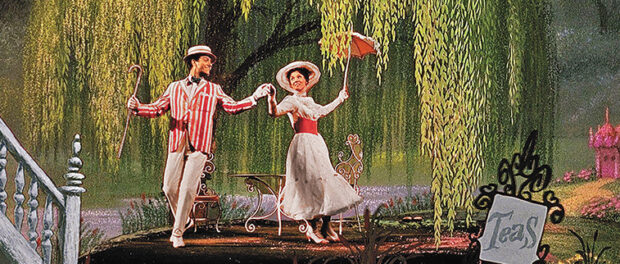 [8]
Julie Andrews stars as a magical nanny who swoops into a turn-of-the-century London family's home to help two neglected children (Karen Dotrice and Matthew Garber) reconnect with their busy-body parents. Mary Poppins is often regarded the best of Walt Disney's live-action efforts, thanks to an effervescent combination of music and fantasy, and charismatic performances from Andrews and co-star Dick Van Dyke, who plays a jack-of-all-trades street man with a curious connection to Poppins.
Mary Poppins is at its best when it embarks in flights of fancy, whether it's visiting Uncle Albert (Ed Gwynn) who is literally floating from perpetual laughter and needs help getting his feet on the ground, or when Andrews and Van Dyke take the children into a painting for a vibrant adventure that combines live-action and animation. Richard and Robert Sherman deliver several indelible musical numbers including "Spoonful of Sugar," "Supercalifragilisticexpialidocious," "Feed the Birds," and "Chim Chim Cher-ee." The art direction, production design, and costumes are purposefully stylized to make London look like a storybook painting. Mary Poppins is indeed a beautiful film to see and hear.
Andrews and Van Dyke are playing larger-than-life characters, but they're given a handful of subtle opportunities to hint at greater complexity — how the two know each other, for example, is an interesting mystery. Andrews also gets to play some buried remorse for all the children she helps but only gets to stay with a short while. David Tomlinson is the movie's unsung hero. As the children's father, he's the character most changed by Poppins' visit. Like Ebenezer Scrooge from A Christmas Carol, his turnabout is what allows a happy ending.
At two hours and twenty minutes, the film runs a little too long. The first half hour could use some condensing and the characters break into song a few times too many. The script threatens to lose its focus at times, but Mary Poppins is nearly always entertaining, full of good humor and spirit. The supporting cast includes Glynis Johns, Hermione Baddeley, Reginald Owen, Arthur Malet, and Elsa Lanchester. Look for Oscar winner Jane Darwell (The Grapes of Wrath) in her final screen performance as 'The Bird Woman'. Based on the books by P.L. Travers.
Academy Awards: Best Actress (Andrews), Film Editing, Visual Effects, Score, Song ("Chim Chim Cher-ee")
Oscar Nominations: Best Picture, Director (Robert Stevenson), Adapted Screenplay, Cinematography, Art Direction, Costume Design, Sound