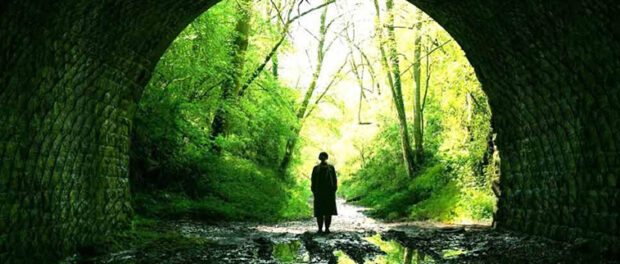 [9]
Writer/director Alex Garland (Ex Machina, Annihilation) serves up this intimate horror/thriller about a woman (Oscar nominee Jessie Buckley) who escapes London for the English countryside after the death of her ex-husband. Once there, however, she encounters several strange men who make her increasingly uncomfortable. First there's the cottage owner who seems disappointed she is unmarried. More alarming is the nude man who chases her through the woods and stalks her home. The male police officer, of course, downplays her concerns. The final straw is the village vicar, who offers to help Buckley confront her grief, only then to suggest she's to blame for her ex's tragedy.
Buckley decides to cut her vacation short and head back to London, and that's when Men — already an interesting story of betrayal, grief, and paranoia — unmoors itself for the phantasmagoric. Viewers need to be prepared to leave science and reality behind for the third act, one that makes sense only by way of symbolism and metaphor, theme and subtext. It's not a total shift in logic. Garland nods early on to Eve and the forbidden fruit, an indication this won't be the sort of movie where a cigar is just a cigar, or a tunnel is just a tunnel.
There's also the peculiar performances from all the male villagers. I thought perhaps two of them were played by the same actor. When the movie ended, I learned that the same actor (Rory Kinnear) in fact played all the men in the rural village, as well as one very creepy boy. It's Garland's way of telling us these aren't specific men — they're every man.
Men is beautifully shot and very well acted, with striking sound design and music. It's a piece of auteur filmmaking that will be enjoyed or appreciated most by audiences who like to participate in the storytelling, filling in gaps with their own experiences and using the film's ambiguities as conversation-starters. I imagine many women will identify with Jessie Buckley as she encounters Kinnear's many masks of 'man'. The funny, charming man. The childish, sympathetic man. The paternal, righteous man. And perhaps most frightening — the nude, primal man. Each interacts with her differently — in ways I found eerily familiar and unnerving.
While the third act will likely throw most viewers for a loop, horror fans should appreciate the fantastic visceral elements (if nothing else). And those looking for deeper meaning will hit pay dirt in Garland's carefully selected words and wild imagery. That Garland exposes the dangerous side of men is to be expected — you'd have no horror film without it. The surprise is that he also explores the pitiable side, and (I think) links the two. It's not the total portrait of 'Man', but the assertions are undeniable and predate mere 'toxic masculinity' by centuries. I've seen few films that dig as deeply into the human condition as this one. I doubt I'll see anything as revelatory for quite a while.