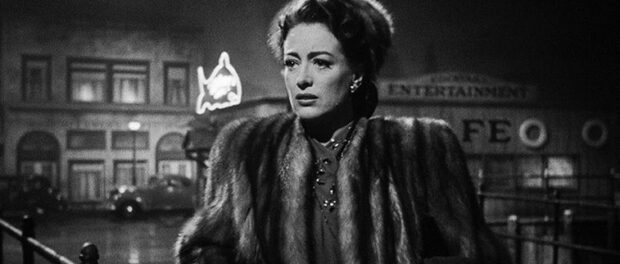 [7]
Joan Crawford won her Oscar for playing the title character in this noir-melodrama from director Michael Curtiz (Casablanca). Based on the book by James M. Cain, Mildred Pierce is told largely in flashback, with Crawford spilling the beans to police after her second husband is found murdered in their beach house. She tells them how she divorced her adulterous first husband and pulled herself up by her bootstraps to provide for her daughters — one of whom is a spoiled little brat she bends over backwards for. Her highly successful restaurant chain isn't enough to support her daughter's lifestyle, so she marries a rich man for money and things get… well, sordid… after that. The story may be a bit winding, but it all hangs together on the mystery of who really killed Mildred's second husband.
Mildred Pierce's overwrought storytelling may not appeal to everyone, but it's a beautifully made film. It's unusual to see a family drama played out with film noir stylings. Cinematographer Ernest Haller (Rebel without a Cause, Gone with the Wind) incorporates creative shadow play while showcasing some gorgeous sets. Early night-time scenes at an ocean pier stick in the viewer's memory, providing Mildred a moody location to contemplate jumping into the ocean and ending it all. Of all Crawford's performances, Mildred is perhaps her most iconic. It also shows her considerable range as we watch her rise from dependent housewife to self-sufficient entrepreneur, only to watch her life shatter again.
Ann Blyth is a little too over-the-top as the oldest daughter, and neither actor playing the husbands (Zachary Scott and Bruce Bennett) leave much of an impression, but Jack Carson is a live wire as a would-be paramour forever stuck in Mildred's friend-zone. Eve Arden has little screen time, but makes the most of it as Mildred's friend and coworker at the restaurant.
Academy Award: Best Actress (Joan Crawford)
Oscar Nominations: Best Picture, Supporting Actress (Eve Arden), Supporting Actress (Ann Blyth), Adapted Screenplay, Black & White Cinematography