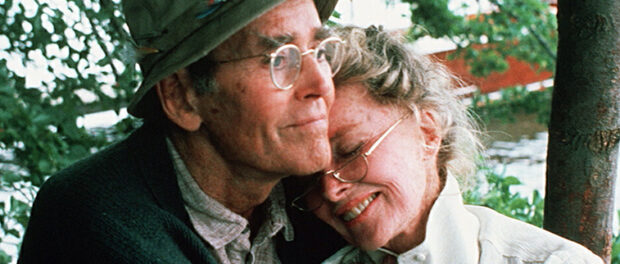 [7]
Katharine Hepburn had never acted with Henry Fonda before, and Fonda had never acted with his daughter Jane. On Golden Pond united the three screen legends for their first and only film together. Hepburn and the elder Fonda play an old couple vacationing at a rustic lake cabin. Fonda has had heart problems and is preoccupied with his own mortality, while Hepburn enjoys picking flowers and berries, and watching her beloved loons on the lake. His grouchy outlook and her unbridled optimism clash in gentle ways. Matters grow more complicated when their daughter (Jane Fonda) and her new boyfriend (Dabney Coleman) visit, requesting to leave his teenaged son (Doug McKeon) with them for a month while they vacation in Europe.
On Golden Pond is based on a play by Ernest Thompson. It retains the intimate banter of a play, but also takes full advantage of cinema's ability to transport us to that lakeside cabin in the spring. If you're looking for dramatic twists or surprises, you won't find any. Usually that's a bad thing, but not this time. On Golden Pond deals with universal concerns that are, almost by definition, sentimental and predictable: fear of death, seeking approval from one's parents, and trying to maintain your dignity when your mind and your body begin to fail you. If it indulges, it's not by much. It helps a lot that it has a sense of humor, with Henry Fonda's delivering a bounty of sardonic quips.
The performances are the thing here. We get to see the incomparable Katharine Hepburn and Henry Fonda cap off their astonishing careers in style. It would indeed be the final appearance from Fonda, and while Hepburn would make a small handful of additional movies, none of them would have anywhere near the impact or shelf life as On Golden Pond. These acting titans, so vital and vibrant in numerous classics from the '30s and '40s, allow us to see them in their twilight — wrinkles, liver spots and all. Essentially naked, and telling a story about which we all, sooner or later, must contend. The two are funny and vulnerable together, a pairing well worth the wait.
Academy Awards: Best Actor (Henry Fonda), Actress (Katharine Hepburn), Adapted Screenplay
Oscar Nominations: Best Picture, Director (Mark Rydell), Supporting Actress (Jane Fonda), Film Editing, Cinematography, Score (Dave Grusin), Sound