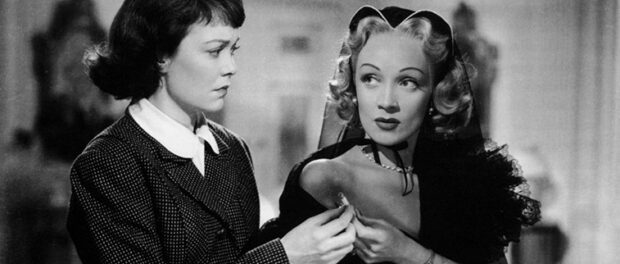 [6]
Jane Wyman stars in this Alfred Hitchcock noir mystery as an aspiring actress who goes undercover to prove her best friend (Richard Todd) is innocent of murdering a theatre starlet's husband. The starlet is played with icy villainy by the great Marlene Dietrich — but did she really kill her own husband? You may think you know, but don't be surprised if old Hitch doesn't pull the rug out from under you.
Stage Fright isn't quite the taut thriller we're used to from the master of suspense, but it certainly has its Hitchcockian moments. Highlights include a child carrying a bloody baby doll up to Dietrich's character during a public performance, and a third act revelation of Shyamalanian proportions. Hitchcock later admitted that he went too far manipulating audiences with this film, but fans may enjoy seeing the director push boundaries and experiment with cinematic form and function. The pointed comparisons between theatre and real life don't bring much meaning to the piece, and the script pursues a handful of puzzling tangential story threads. As wobbly as it may be, Hitchcock keeps the film entertaining — even when the plot pauses to permit goofy character actor Joyce Grenfell to give Alastair Sim (as Wyman's father) a comedically hard time trying to win a prize at a festival game booth.
Wyman, hot off her Oscar win for Johnny Belinda, is solid in a mousy role that allows her to don a manipulative alter ego in her scenes with Dietrich, while lowering her defenses for a romantic subplot with a police detective (Michael Wilding). But what you're more likely to remember is Marlene Dietrich's delicious turn as the alleged murderess. From her all-too-telling song number, "The Laziest Girl in Town", to her chilling monologue about killing a dog that didn't love her, she alone is worth the price of admission to Stage Fright.