The Broadway Melody (1929)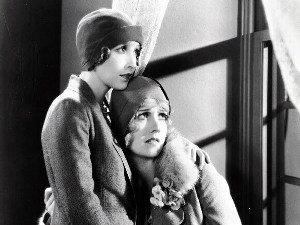 [4]
To give credit where credit is due, The Broadway Melody was the first sound film from MGM Studios, the second-ever Best Picture Oscar winner (the first with sound), and the first film in history to feature dance numbers filmed to pre-recorded music. It was the biggest money-maker of 1929 and spawned at least four sequels over the course of the next decade.
It just doesn't stand the test of time as well as other pioneering efforts.
Some of that is not the movie's fault. In the transition to 'talking movies', there were sure to be some bumps along the way. The audio recording in The Broadway Melody can be pretty rough at times. There are scenes in the film where you just know the microphone is hiding in a pot of flowers and the further the characters get away from the flowers, the harder they are to hear. (In many ways, 1952's Singin' in the Rain is a parody of this movie.) The film also features what would soon be a relic of the silent film era — title cards before each scene that set the time of day and location. It's funny to imagine a time before establishing shots, but here it is.
The story is about two sisters, Hank and Queenie (Bessie Love and Anita Page), who take their successful Midwest vaudeville act to the Big Apple. With the help of their friend Eddie (Charles King), they become part of a well-established Broadway show. The film is more interesting when it focuses on the behind-the-scenes relationships. Both sisters have feelings for their male companion, but Queenie is also being courted by a High Society snob. The entanglement affords Bessie Love one of the movie's emotional highlights, a moment alone in front of a mirror after she's sacrificed her own feelings to help bring Queenie and Eddie together.
The main reason I can't get into The Broadway Melody is all the dull musical numbers. Busby Berkeley this ain't. Some of the numbers are captured in front of a locked-down camera focused on the entire stage, top to bottom, with the performers flitting about at the very bottom of the frame. And apart from one number in which two men flip all the women head over heels between themselves, the choreography is sloppy and uninspired. Some of the songs would be performed much better, and with better visual accompaniment, in Singin' in the Rain.
It's interesting to note that the second Best Picture Oscar winner contains a same-sex kiss on the lips between the two sisters, coming just one year after the first Best Picture, Wings, featured two male fighter pilots doing the same. Why is it a big deal today when it wasn't in the late '20s?
Academy Award: Best Picture
Oscar Nominations: Best Actress (Bessie Love), Best Director (Harry Beaumont)