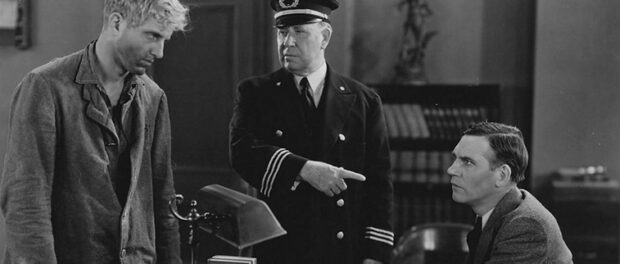 [6]
Walter Huston headlines this Howard Hawks prison drama about a district attorney who becomes warden of a facility where he's responsible for half the men's sentences. Co-starring is fresh-faced Phillips Holmes as a twenty-year old who accidentally kills a man during a bar brawl. Huston sympathizes with the young man, but sends him to prison for a ten year sentence. Once he's warden six years later, Huston finds Holmes in a perilous near-catatonic state, broken down by prison life. He makes Holmes one of his personal servants to give him a change of pace. But the bond between the two men is tested when Holmes witnesses the murder of a 'squealer' and must choose between obeying the criminals' code of silence, or becoming an informant for the warden — a decision that could mean life or death.
The Criminal Code works well as a morality play by creating sympathetic characters on both sides of the law. Huston's character never lords his authority over the inmates. In fact, he walks among them in the courtyard and even lets a convicted throat slitter give him a shave. Holmes' relationship with his two cell mates is another highpoint, scraping the surface of a subject director Hawks would spend most of his career developing, that of male camaraderie. Huston and Holmes give good performances, but they're both upstaged by pre-Frankenstein Boris Karloff as one of Holmes' cell mates, a man with a vendetta against one of the guards.
The film moves well and is still relatable ninety years later. Its primary weakness is its love story between Holmes and Huston's daughter, played by Constance Cummings. While it's not as shoe-horned into the script as many other romantic subplots from the era, the love story unjustly hijacks the climax and resolution of the movie — surely a means to the film's happy ending. While happy endings are sometimes fine, I'd like to have seen this morality play stick to its guns and present a final thesis.
Oscar Nomination: Best Adapted Screenplay