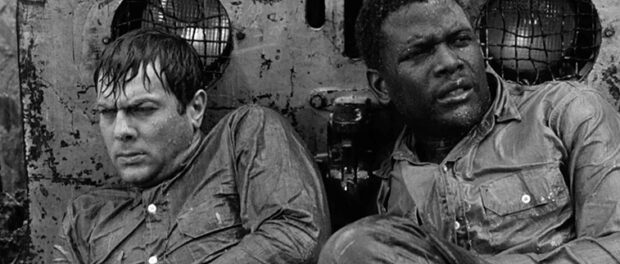 [8]
Socially-conscious filmmaker Stanley Kramer (Inherit the Wind, Judgment at Nuremberg) made an impact early in his directing career with this dramatic chase story of two escaped convicts evading authorities while chained together at the wrists. The twist? One prisoner's white and the other's black. This poetic plot point allows The Defiant Ones to address racism in America while also delivering as a tense cat and mouse pursuit that hits the ground running and rarely lets up.
Kramer and screenwriters Nedrick Young and Harold Jacob Smith provide lead actors Tony Curtis and Sidney Poitier juicy, sophisticated roles. The two characters view the status quo very differently. Curtis loathes it and dreams of making a better life for himself, while Poitier holds back seething rage for all the obstacles preventing him from the most basic needs to simple living. Without a heavy hand, The Defiant Ones presciently handles modern concepts like white privilege and black rage. Even more remarkably, the filmmakers humanize the story's would-be adversaries, depicting the sheriff (Theodore Bikel) and his men as humane and dutiful. If there's a weak point in the movie, it's during Curtis's and Poitier's layover with a lonely farm woman (Cara Williams) and her young son. While the scenes there are well-acted, the woman's motivations require some suspension of disbelief.
Films committed to social commentary can often force themselves to a wishful ending that is hard to swallow. They can also take the route of tragedy. While the later might be more believable with a subject like racism, it can also make for a cheap, sentimental resolution. The Defiant Ones is bold enough to skip both routes. It lands perfectly and hopefully. Co-star Lon Chaney Jr (The Wolf Man) is memorable as an unexpected aid in the men's journey. Look for The Little Rascal's Alfalafa (Carl Switzer) as a member of the sheriff's manhunt. With Charles McGraw and Claude Akins.
Academy Awards: Best Original Screenplay (Nedrick Young and Harold Jacob Smith), Black & White Cinematography (Sam Leavitt)
Oscar Nominations: Best Picture, Director, Actor (Sidney Poitier), Actor (Tony Curtis), Supporting Actor (Theodore Bikel), Supporting Actress (Cara Williams), Film Editing