The French Connection (1971)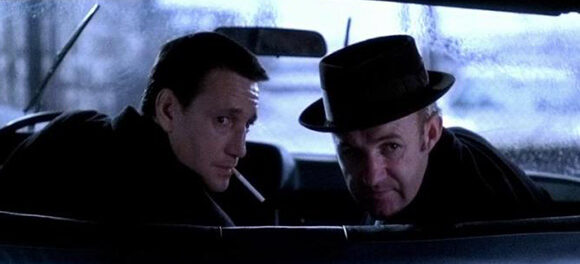 [7]
A pair of New York city narcotics cops try to bust a big heroin deal being brokered between suspected mobsters and a French connection. But one of the cops, 'Popeye' Doyle (Gene Hackman), has a history of recklessness and threatens to lead his partner (Roy Scheider) down another dangerous rabbit hole in his obsessive pursuit of the drug dealers.
Based on a true story and directed with voyeuristic realism by William Friedkin, The French Connection gives you a fly-on-the-wall perspective of police surveillance and criminal interactions. For much of the film, we're right there with Hackman and Scheider, in a car for an overnight stakeout or in a janitor's closet listening to surveillance recordings. It's not remotely a buddy cop movie. There's no witty banter. There's no big stars on parade. Friedkin and the cast keep it real. And it's compelling viewing.
The film's now-famous centerpiece moment is a car chase through New York city, in which Hackman seizes a civilian vehicle to keep up with one of the drug dealers, who's racing along above in a cable-car that he's commandeered. Most film fans and filmmakers alike agree — it's still the best car chase in movie history.
Some viewers may find the ending a bit abrupt, but I think it offers a poetic closure for Hackman's Captain Ahab-type character. I wish Roy Scheider had more to chew on — perhaps just one or two grace note moments between him and Hackman. But maybe that'd be too conventional for a movie that's decidedly less of a movie and more of an experience.
Academy Awards: Best Picture, Director, Actor (Hackman), Adapted Screenplay, Film Editing
Oscar Nominations: Best Supporting Actor (Scheider), Cinematography, Sound