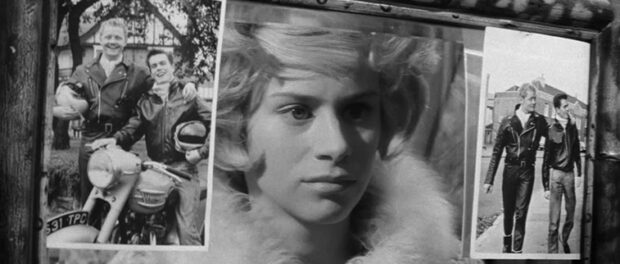 [9]
A South London biker boy (Colin Campbell) finds himself caught in a romantic triangle, unsure whether to patch things up with his young wife (Rita Tushingham) or pursue an increasingly comfortable relationship with a fellow biker (Dudley Sutton). The Leather Boys is an obscure but surprising discovery, featuring beautiful, widescreen black & white photography, moody locations, a smart script, and solid performances.
Produced at a time when sodomy laws were still in effect in England, the film created its share of controversy upon release. But anyone expecting lasciviousness or exploitation will be very disappointed. The Leather Boys is directed with great sensitivity by Sidney J. Furie (The Entity, Superman IV: The Quest for Peace), who contrasts cramped London interiors with sprawling outdoor landscapes to accentuate Campbell's claustrophobic anxiety for marriage, and his yearning for the open road. Screenwriter Gillian Freeman (adapting her own novel) creates empathy for all three characters in a remarkable exercise of restraint. Her love story is without graphic sex, expected violence, or convenient ultimatums. It's a journey of self-discovery (my favorite kind) that invites participation, implying and evoking far more than it delivers point-blank.
Campbell is a handsome, charming leading man. His performance captures qualities of immaturity, confusion, and compassion. As the lone woman in the triangle, Tushingham has some effective moments of playful goofiness and volatility. Her character threatens to become the villain of the piece when she feigns pregnancy to save her marriage. But the role doesn't suit her long. She's strengthened when she relinquishes it. Dudley Sutton's appeal is at first a comic one, making it easy to see how anyone might fall under his spell. He never asks Campbell for a relationship — in fact, he never even says he's gay. But when Campbell is with Tushingham, you can feel Sutton's pain. The climax of the boys' relationship is a subtle but powerful one, where they don't talk about sex, identity, or labels. They only contemplate the possibility of 'taking care of each other.' And isn't that what it's all about?
After decades in obscurity, The Leather Boys deserves a place in the study of LGBTQ representation in film. It's not necessarily a film made for gay audiences — there's no celebration of identity, nor any gay sex appeal to help with marketing. The bikes and leather feel arbitrary. It's a different kind of 'gay film', made before the subgenre would develop its conventions. It's almost a non-binary, non-label kind of 'gay film'. Not about gay people, but the potential for same sex love — emotionally, if not physically — within us all.