The Phantom of the Opera (1925)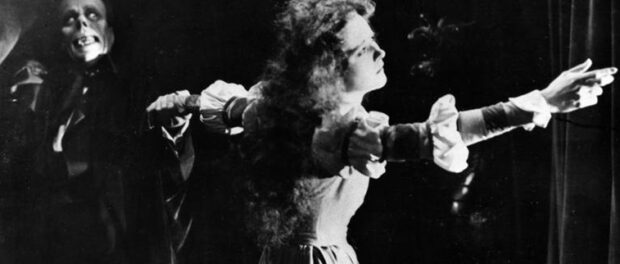 [7]
Just a few years before sound wiped out the silent cinema, Universal Pictures had one last major hit with The Phantom of the Opera. Based on Gaston Leroux's novel, the film centers on a young opera starlet named Catherine (Mary Philbin) who makes a pact with a mysterious 'ghost' who haunts the Paris Opera House. He'll make Paris audiences worship her if she'll just give her heart to him. Catherine gives her beau Raoul (Norman Kerry) the boot and pledges allegiance to the phantom, but after she catches a glimpse of what he's hiding under his mask, well… it turns out true love does have its limits.
Universal built a near-exact replica of the famed Paris theater and hired character actor and makeup artist Lon Chaney (1923's The Hunchback of Notre Dame) to bring the the film's title character to life. Chaney's creepily distorted face and the grand sets are still impressive. The film suffers slightly from a slow first act and melodramatic performances all around, but once the Phantom brings Catherine to his lair deep in the catacombs, the story lands nicely into cliffhanger serial mode. Three would-be heroes become fodder for the Phantom's booby traps, but will our villain survive the requisite torch-bearing mob? In another highlight, the phantom dons a skull mask and joins the masses unrecognized during a masquerade ball sequence shot in early two-tone color.
Not many silent films have endured the past century, but The Phantom of the Opera remains a touchstone. Anyone interested in its legacy in either film or horror history will be pleasantly surprised how well it holds up as a screen spectacle.