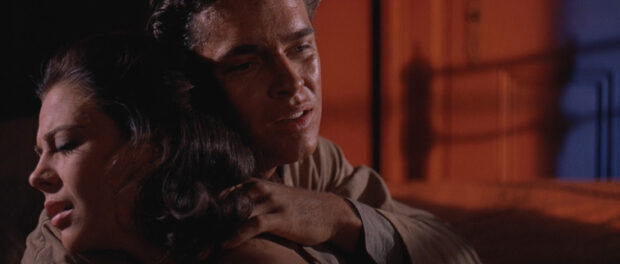 [8]
Tension between rival New York City gangs the Jets and the Sharks is wound to a tragic snapping point after one young Jet falls head over heels for the sister of the Sharks' leader. West Side Story is based on the landmark stage musical featuring music by Leonard Bernstein, lyrics by Stephen Sondheim, and exciting dance choreography by Jerome Robbins, who co-directs this film version with Robert Wise (The Haunting, The Sound of Music). This combination of formidable creative forces creates a thrilling cinematic experience that won ten Academy Awards.
Of course, both the film and the stage musical are riffs on Shakespeare's Romeo and Juliet. In the film, Richard Beymer and Natalie Wood play the star-crossed lovers, whose characters keep having clandestine rendezvous despite the warnings of friends and family. Apart from the fact that Natalie Wood is not Puerto Rican as the part calls for, nor a professional dancer, she manages to deliver a sufficient performance (her singing was largely dubbed by Marni Nixon). Richard Beymer fares better with his deep, buttery vocals and fresh-faced naivete.
You'd think West Side Story would succeed or fail on the merits of its two leading characters — but I don't think it does. Where Wood and Beymer are merely adequate, nearly everything else about the film is superlative. The long opening prologue starts the film off with a bang, as the Polish Jets and Puerto Rican Sharks jump, dance, and strut throughout the city having balletic confrontations with one another. It's one of the most utterly cinematic sequences in movie history, marrying Robbins' energetic dance moves with eye-popping cinematography and stupendous film editing. It's a celebration of sight and sound as only film can deliver. And that's just the first twenty minutes of the movie.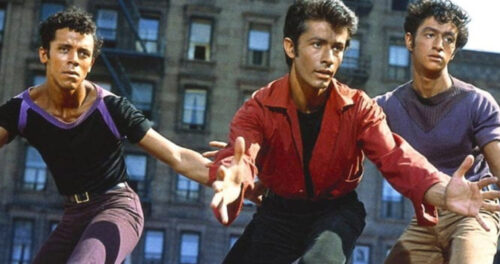 The supporting roster here is second to none. George Chakiris drips sex as the Sharks' leader, while Rita Moreno kicks up a storm in the film's most rousing number, "America", while also playing Natalie Wood's concerned confident with a balance of disappointment and understanding. Russ Tamblyn and Tucker Smith stand out among the Jets for their dance moves, while Simon Oakland leaves an impression as the policeman trying to keep the rival gangs apart.
I normally find most of the song numbers a distraction in movie musicals. There's usually only one or two good ones and the rest just get in the way of the story. But in West Side Story, there isn't one number I would remove. Each has a completely different vibe and feeling — whether it's the humorous "Gee, Officer Krupke," the power ballad "Tonight," or the quirky "Cool". Each number is electrifying — so much more than the central romance that I almost found myself saying, "Enough with the love stuff… find another reason to dance!"
Academy Awards: Best Picture, Supporting Actor (George Chakiris), Supporting Actress (Rita Moreno), Director (Robert Wise & Jerome Robbins), Color Cinematography (Daniel Fapp), Color Art Direction/Set Decoration, Color Costume Design, Sound, Film Editing, Music
Oscar Nomination: Best Adapted Screenplay (Ernest Lehman)