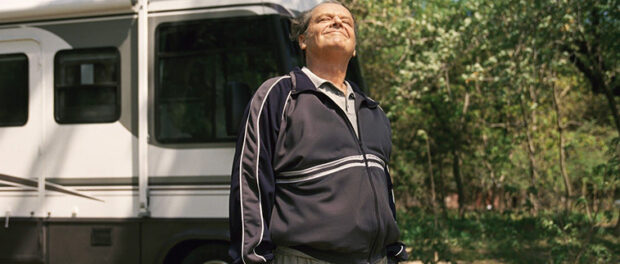 [8]
Jack Nicholson stars as Warren Schmidt, a recent retiree who tries to reconnect with his daughter after the sudden death of his wife. He embarks on an RV trip to stop the daughter's wedding to an unworthy used car salesman, but the effort only succeeds in further alienating her and underscoring his own uselessness.
About Schmidt is another wonderfully droll comedy from writer/director Alexander Payne (Election, Citizen Ruth). With this movie, Payne solidifies his reputation as a comedy auteur who underscores character-driven writing with incredibly thoughtful camera work and editing. In comedy filmmaking, only the Coen Brothers are as cinematic as Payne.
Nicholson gives one of the last great performances of his career here, boosted by a great supporting cast that includes Dermot Mulroney, June Squibb, and Hope Davis. But Kathy Bates is the most memorable as the boisterous mother of the groom, a pushy, presumptuous woman who leaves Schmidt stunned and a little terrified.
The film's grace note — what really pushes it over the edge — is Nicholson's narration. The narration comes entirely from letters that Schmidt writes to an African boy he's 'adopted' through a relief fund. The thought of an orphan in need of education and medical attention reading letters about Schmidt's mid-life crisis is comic gold. In the movie theater when I first saw this movie, Schmidt's refrain, "Dear Ndugu," caused a wave of laughter up and down the aisles. But in the hands of Alexander Payne, Ndugu isn't just a recurring joke — he ends up being the lynchpin in a lonely man's quest for the meaning of middle-aged life.
Oscar Nominations: Best Actor (Nicholson), Supporting Actress (Bates)