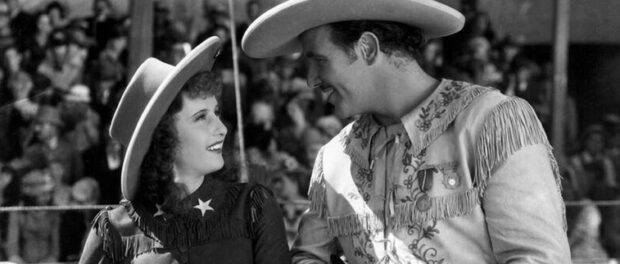 [8]
George Stevens (Gunga Din, A Place in the Sun) directs this romanticized tale of an American western legend — Annie Oakley, the woman sharpshooter who could beat any man at gunplay. While the real Annie Oakley was surely rougher around the edges, Barbara Stanwyck carries this first film adaptation of Oakley's life with strength and compassion. The screenplay centers around Oakley's romance with a fellow sharpshooter played by Preston Foster. The pair play competitive adversaries in Buffalo Bill's Wild West Show, while caring deeply for each other in private. The romance is shattered, however, after Foster's character is wrongly fired from the show and another man (Melvyn Douglas) makes his moves on Annie.
Despite the title, Annie Oakley is as much about Preston Foster's character as Oakley's. But the two have good chemistry, having worked together previously on 1933's Ladies They Talk About. The film moves well, with an exciting initial meeting of the two characters at a Thanksgiving quail shoot where Oakley feels sorry for her rival after hearing the crowd criticize his masculinity. She lets him win. While this part isn't true to life, it nonetheless makes us care about Annie, who doesn't want to win a contest if it costs a man his reputation.
When both characters end up working for Buffalo Bill, the script warms us to Foster as he helps Annie with her showmanship (she needs no help hitting her targets). There are no hard feelings between the two when Oakley steals the limelight out from under him — which might have been a tempting way for the writers to take this fictionalized account of Oakley's life. Instead, the film takes a refreshingly egalitarian approach. Foster respects her, a better way to nurture romance than most 'love stories' are smart enough to employ.
Annie Oakley may not be all that faithful to history, nor is it one of Stanwyck's more indelible performances. The plot tends to have its way with her rather than the other way around. But it's still a very entertaining movie. Like many romances, it struggles when requisite dramatic obstacles pop up in the final act. It's hard to keep a romance story alive when the lovers are separated, but director Stevens takes the opportunity to cover the separation with a montage of Oakley's European tour. The film gets back on track quickly, with a climactic reunion of the lovers that relies heavily on the welcome, humorous antics of Chief Thunderbird as Sitting Bull, a popular staple in Buffalo Bill's program. Moroni Olsen is also memorable, looking and sounding very convincing in the role of Buffalo Bill.