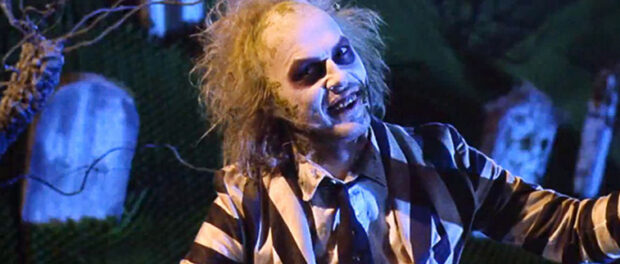 [8]
Director Tim Burton (Batman, Ed Wood) followed his debut feature, Pee Wee's Big Adventure, with this stylish fantasy-comedy about a young deceased couple (Alec Baldwin and Geena Davis) trying to haunt an annoying new family out of their quaint countryside home. When the new family ends up more amused than alarmed by their ghostly antics, they're left with no choice but to summon the assistance of a trickster 'bio-exorcist' named Betelgeuse (Michael Keaton) to get the job done. But at what high cost does Betelgeuse's assistance come?
You'll recognize German Expressionism in the sets and Tex Avery in the physical comedy, but as a whole there's no other film quite like Beetlejuice. It's often said that, 'if it ain't on the page, it ain't on the stage,' but this one of those rare films where the director and all creative departments truly lift the material far beyond the written word. What would become known as the 'Tim Burton style' — a mash-up of Halloween nostalgia, chiaroscuro, and circus-macabre — is fully born and on display here, brought to life through Bo Welch's production design, Danny Elfman's carnivalesque score, the Oscar-winning makeup effects, and Aggie Guerard Rodgers' costumes. The aesthetic never looks expensive, but always feels inspired.
But Beetlejuice isn't style over substance, either. The script is featherlight in its plotting, giving an ensemble of terrific talent a showcase for their comedy chops. Michael Keaton steals the thunder as the title character, and he's wonderfully manic and repulsive in the role. But he actually has far less screen time than his fellow cast members. Catherine O'Hara and Jeffrey Jones are wonderful as the new homeowners, both suffering from delusions of grandeur. By contrast, their daughter Lydia (Winona Ryder) is a pale goth girl in black. Her outlook on life is so bleak that she is the only one who can see and communicate with the ghosts, played with dutifully generic charm by Baldwin and Davis. Glenn Shadix is terrific as a pushy interior designer-turned-supernatural conjurer, while screen legend Sylvia Sidney plays the ghosts' otherworldly 'case worker'.
Beetlejuice is cartoony from start to finish, creating its own logic as it goes — although after repeat viewings, I'm still not sure how to explain the movie's climax. It's so inventive and beautiful to look at, it's easy to be forgiving. One highlight is the waiting room for the recently deceased. There you'll find a big game hunter with a shrunken head, a scuba diver with one leg buried in a whole shark, and a charred corpse offering Alec Baldwin a smoke. Stop-motion animation brings charm to several scenes, including 'sandworms of Saturn' that threaten the ghosts when they try to leave home. The icing on this colorful cake of a movie comes courtesy of Harry Belafonte, whose songs "Day-O" and "Jump in Line" underscore two more of the film's most memorable moments.
With Robert Goulet and Dick Cavett.