Clear and Present Danger (1994)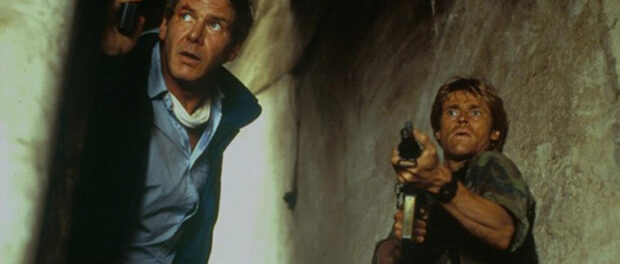 [5]
Harrison Ford returns as Jack Ryan in his second Tom Clancy adaptation, Clear and Present Danger. The story this time puts Ryan in the middle of a secret war between the U.S. government and a Colombian drug cartel. The plot is long and winding, with in-fighting on both sides of the battle line, culminating in a showdown of sorts between Ryan and the highest powers of Washington — including the president.
Clear and Present Danger is long, but watchable. After the previous two Jack Ryan movies (The Hunt for Red October and Patriot Games), you'd expect a more exciting sequel. While there are two or three action scenes, it's not really enough to sustain an action movie that runs over two hours and twenty minutes long. What's more, Harrison Ford is rarely at the center of the action. Supporting players Willem Dafoe, Benjamin Bratt, and Raymond Cruz are the true action stars of the film, engaged in ground battle with the cartel's minions. Meanwhile, Ford is stuck struggling with phone calls, computers, and fax machines — at least until the last ten or fifteen minutes, when the movie finally channels its inner Rambo, albeit pointedly. James Earl Jones delivers most of the film's meager emotional weight as Ryan's terminally ill boss, while Anne Archer is little more than window dressing as Ryan's wife, and composer James Horner phones it in with a potpourri of his other, better action film scores.
The most compelling thing about this mediocre action movie is the subplot involving the president (Donald Moffat) and other government officials acting illegally to further their own agendas instead of the American people's. That part sadly rings more true today than it did in 1994. Directed by Phillip Noyce (Patriot Games, Dead Calm).
Oscar Nominations: Best Sound, Sound Effects Editing