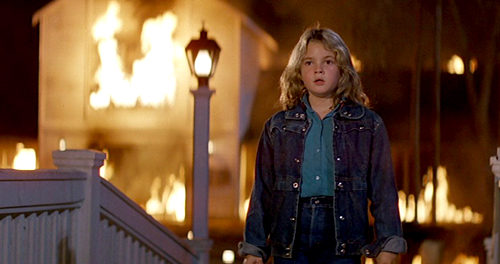 [7]
A father and daughter are on the run from a secret government group that experimented on them, giving them frightening powers of telekinesis and spontaneous combustion. David Keith (An Officer and a Gentleman) and Drew Barrymore (E.T.) play our fleeing heroes, while the evil government agency is represented by a terrific roster of actors that includes George C. Scott, Freddie Jones, Moses Gunn, and Martin Sheen. Oscar winners Art Carney and Louise Fletcher also appear as a kindly old farming couple who take Keith and Barrymore in for a quick respite.
I was first impressed with the casting and then how the film starts in medias res, with a long opening chase sequence. Firestarter sustains itself by putting the father/daughter relationship front and center. You feel for these characters and you want to see them escape. The film also creates a particularly compelling villain in George C. Scott's character. At one point in the film, Barrymore is captured and isolated from her father, and in order to get her to display her abilities, Scott infiltrates her life and deceivingly earns her confidence. His phoney friendliness is then juxtaposed against a creepy scene in which he tells Martin Sheen's character, in graphic detail, exactly how he's going to kill Barrymore when the time comes.
The Tangerine Dream score is a little heavy at times and the third act features some developments in Barrymore's powers that may or may not make any sense, but Firestarter — based on a story by Stephen King — has its heart in the right place. With Heather Locklear.