Friendly Persuasion (1956)
[9]
William Wyler directs this story about an Indiana Quaker family trying hard to keep their pacifist faith while the Civil War creeps up on their doorstep. The screenplay makes the period setting completely accessible, skillfully blending comedy and drama with character and substance. I quickly invested in the family, especially Gary Cooper as the father, a man who enjoys horse racing his neighbor to church on Sunday mornings. Dorothy McGuire is beautiful and endearing as his stalwart wife, and Anthony Perkins makes a memorable turn as their oldest son.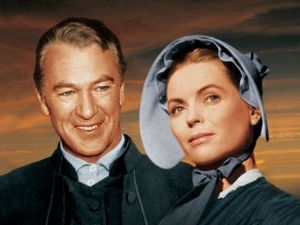 I enjoyed the idyllic country setting and the family's innocent escapades. There's a great sequence where father and son travel to a widow's home to trade horses. The widow, played by Marjorie Main (best known as Ma Kettle) has three man-hungry daughters, who corner poor frightened Perkins like lions ready to pounce a gazelle. The second half of the movie gets more serious, especially when Perkins goes against his faith to join the war effort. When his horse returns home without him, Cooper is pressed to make the hardest decision of his life. Even mother's faith is tested when raiders threaten the beloved family goose.
Friendly Persuasion is an anti-war film, and an earnest one. Since the Quakers are raised with reverence for human life, it's very interesting to see what happens when they're pressed to aim weapons. The results make for compelling storytelling. The film was Oscar-nominated for best picture, director, adapted screenplay, and supporting actor (Anthony Perkins).