Hell or High Water (2016)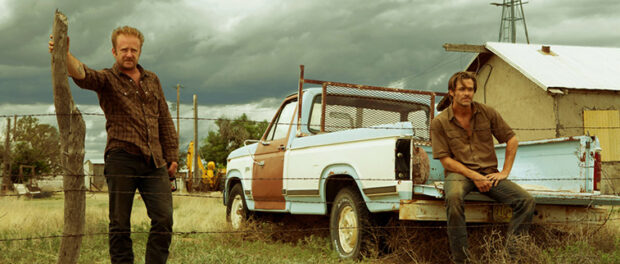 [7]
Chris Pine and Ben Foster play west Texas brothers who resort to bank robbing to keep from losing their family farm. This draws the attention of a Texas Ranger, played by a snarky Jeff Bridges, and his long-suffering partner (Gil Birmingham). As the brothers collect nearly enough to stop the bank from foreclosing, the rangers close in. Will they secure a future for their impoverished family or will the long arm of the law finally catch up with them?
Hell or High Water is a classic 'cops and robbers' story, but screenwriter Taylor Sheridan (Wind River, Sicario) tells it through two intimate relationships. One relationship is between the brothers, with Foster playing the bad boy who has spent a quarter of his life in jail, and Pine playing the law-abiding one whose better decision-making doesn't seem to have made any difference. So the two team up and risk their lives in the hopes of giving a better future to Pine's sons. The other relationship is between Bridges and Birmingham — brothers in duty, if not by blood. Sheridan and director David Mackenzie (Young Adam) give all four actors the opportunity to deliver remarkable, nuanced performances playing classical western 'tough guys' who struggle to share their feelings even with the people they love the most.
The plot becomes oversimplified in the middle and loses a little steam, but when it charges up for the third act, it takes us somewhere more meaningful for all the time we invest in these characters. In some ways, Hell or High Water is like a small-scale, less flashy version of Michael Mann's Heat. It presents a familiar conflict in a nonjudgmental way that humanizes characters on both sides of the law. Instead of rooting or booing for anyone, you're much more likely to feel conflicted for all the characters. If there's a true villain in the story, it's the faceless, nameless kind that heroes and anti-heroes have been fighting in movies since The Grapes of Wrath. And unfortunately, battles of that kind have only grown more timely.
Oscar Nominations: Best Picture, Supporting Actor (Bridges), Original Screenplay, Film Editing