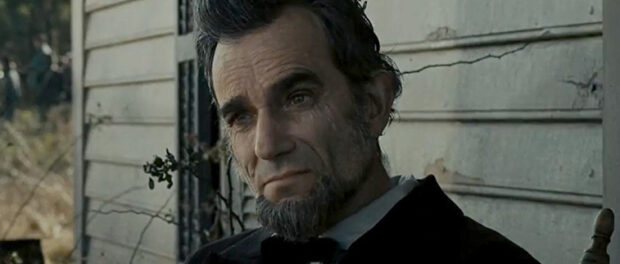 [7]
Daniel Day-Lewis (My Left Foot, There Will Be Blood) won his third Oscar for his convincing portrait of America's 16th president during the final months of the Civil War. Lincoln is a decades-long pet project for director Steven Spielberg, who chose Angels in America scribe Tony Kushner to make Doris Kearns Goodwin's book Team of Rivals: The Political Genius of Abraham Lincoln the foundation for the film's screenplay. The result is not a traditional biopic as the title suggests, but rather a close examination of the challenges and complications Lincoln and congressional Republicans met while trying to pass the 13th Amendment — legally ending slavery in the United States.
Anyone expecting Civil War re-enactments or melodramatic depictions of family strife may be disappointed. These are merely backdrop in Lincoln. Although Day-Lewis does have dramatic confrontations with Sally Field and Joseph Gordon-Levitt, playing his wife and son, the film never loses its focus on the political game Lincoln is playing. James Spader (Sex, Lies and Videotape) is well-cast as a secret operative trying to woo reluctant congressmen to the cause with sometimes comic results. Tommy Lee Jones (The Fugitive) is a stand-out in the colorful role of Thaddeus Stevens, a radical Republican who does not hesitate to verbally eviscerate his political challengers in debate.
While I knew some of the major points of Lincoln's presidency, the Civil War, and abolition, I did not know how intricately tied these subjects were — especially that ending the war too soon might actually prevent abolition from happening. That this history lesson isn't a dry one is a testament first to Spielberg and Kushner, who pull off a remarkably streamlined and focused piece of storytelling. Not enough credit can be given to Day-Lewis and Jones, either. Their stirring, sophisticated performances bring humor, heart, and humanity to the piece.
With David Strathairn, Hal Holbrook, John Hawkes, Jackie Earle Haley, and Lee Pace.
Academy Awards: Best Actor (Daniel Day-Lewis), Production Design
Oscar Nominations: Best Picture, Supporting Actor (Tommy Lee Jones), Supporting Actress (Sally Field), Director, Adapted Screenplay (Tony Kushner), Cinematography, Film Editing, Costume Design, Original Score, Sound Mixing