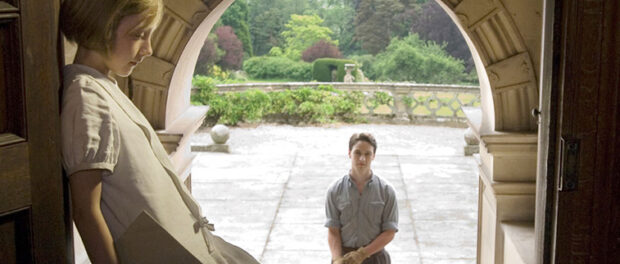 [7]
Thirteen-year-old aspiring writer Briony Tallis (Saoirse Ronan) accuses her older sister's lover of a crime he didn't commit, effectively condemning him to years of prison and compulsory military service. The lovers (Keira Knightley and James McAvoy) stay connected through letter-writing, but the unfolding tragedies of World War II keep them ever apart. Years later, Briony wants to atone for the sin that tore her family apart — but will fate relent to give her a chance?
Atonement, based on a novel by Ian McEwan, begins as a gripping chamber drama with great performances, locations, cinematography, and costumes. But after McAvoy is taken away by police, the story loses some momentum. Briony, our main character up to this point, falls out of the picture and the story shifts focus to McAvoy during wartime. Despite McAvoy's moving portrayal and a truly impressive recreation of the evacuation of Dunkirk, the story's shift in focus is a bit jarring. When Briony reenters the story five years later (and played by a different actor), Atonement seems to get back on track. The final act is an experimental one, toying with form and structure in an interesting but deceptive way that may divide audiences.
I have mixed feelings about the final act's machinations. But in that first hour, when director Joe Wright (Hanna, Pride and Prejudice) reveals Knightley's and McAvoy's lusty romance through the eyes of a jealous, naïve child — Atonement is captivating. Cinematographer Seamus McGarvey pulls off some remarkably long tracking shots, and composer Dario Marianelli delivers a beautiful, surprisingly percussive score. With Vanessa Redgrave, Romola Garai, Benedict Cumberbatch, Brenda Blethyn, and Juno Temple.
Academy Award: Best Original Score (Dario Marianelli)
Oscar Nominations: Best Picture, Supporting Actress (Saoirse Ronan), Adapted Screenplay (Christopher Hampton), Cinematography, Art Direction, Costume Design