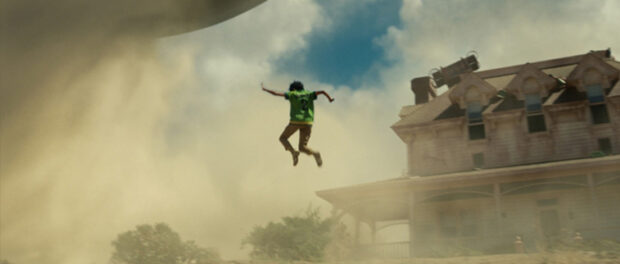 [7]
[SPOILER WARNING]
Writer/director Jordan Peele (Get Out, Us) delivers his third solid horror-mystery with Nope, the story of sibling horse wranglers (Daniel Kaluuya and Keke Palmer) who discover a UFO hiding in a stationary cloud above their gulch ranch. At first the pair decide to get rich by capturing the first high-resolution photographic evidence of the phenomenon. But when the UFO reveals itself to be a hungry monster intent on eating horses and people alike, their mission becomes more simple: kill or be killed.
Nope contains a good number of nail-biting moments, including the UFO's arrival at a nearby western-themed sideshow where the park's owner (Steven Yeun) tries to capitalize on the saucer-shaped creature's frequent visitations at his peril. There's also a very inspired visceral sequence when the creature spits out what it can't digest — including coins, keys, and even cars — in a rain of blood on the siblings' home. Effects, music, sound design, and photography are top-notch, and Peele artfully renders his set-piece moments with Spielbergian panache.
While I enjoyed Nope, I can't help but feel I would have enjoyed it more if Peele would have shortened the script by a good twenty or thirty minutes and created more engaging characters to take us through this adventure. Kaluuya's character is so reticent and emotionally guarded, it takes a while to warm up to him. Palmer's character feels more like the goofy neighbor of a '90s sitcom than a real person, as do supporting players Brandon Perea and Michael Wincott.
The film's first act takes a long time to set up a house of cards that ultimately isn't necessary to enjoy the movie's more straight-forward second half. Yeun's supporting character is given a lot of screen-time with a bizarre backstory involving a sitcom he starred in as a child, and a tragedy that occurred there when a chimpanzee went crazy and hurt people. There's also time devoted to the sibling's legacy in the Hollywood horse wrangling business and Wincott's obsession with capturing the perfect shot. These diversions are sometimes interesting and seem to have a thematic correlation with the film's main storyline, but I can't quite make the connection, or discern why they are needed. Nope is essentially a good old-fashioned monster movie (one of my favorite subgenres), and I think it would be an even better movie without all the extra padding. Then again, maybe I'll rewatch Nope some day and discover I'm just stupid.