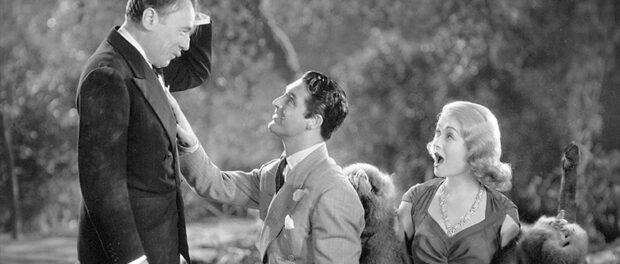 [7]
Cary Grant and Constance Bennett play a carefree wealthy couple who die in a car wreck after a night of hard partying. When they discover they are ghosts with no purpose, they decide to do a good deed in hopes of getting into heaven. So they try to rescue their stuffy bank manager friend, played by Roland Young, from the stifling lifestyle his wife (Billie Burke) has created for him.
Topper includes a lot of ghostly comic effects gags and fun performances from all mentioned, but the screenplay falters in several important ways. The supernatural element takes a long time to enter the story, and once it does, we're never clear about exactly what the ghosts' mission is — to get Young in trouble? to make him leave his wife? In the third act, the ghosts separate, with Bennett courting Young and making Grant jealous — a move that only further muddles the plot.
As unfocused as the script is, Topper maintains a consistently fun, irreverent tone and has enough comic highlights to stick in your memory. Roland Young is the film's unsung hero, playing the straight man to Grant and Bennett's flashy pranksters. He carries the film's best sequence all by himself when he pretends to be unconscious, carried through a busy hotel lobby by two invisible escorts. Notable supporting players include Arthur Lake as a hotel bellboy tormented by the ghosts, and Alan Mowbray as the butler who carries a flame for Young's wife. The film also includes the screen debut of singer/pianist Hoagy Carmichael, who provides the tune "Old Man Moon" to the soundtrack. With Eugene Pallette and Hedda Hopper.
Oscar Nominations: Best Supporting Actor (Roland Young); Sound Recording