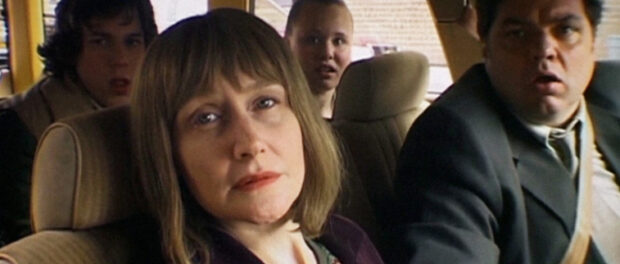 [8]
Katie Holmes and Patricia Clarkson lead an ensemble cast in this quaint but compelling drama/comedy about a 'black sheep' daughter (Holmes) who tries like Hell to host Thanksgiving dinner for her visiting family. Neither Holmes nor her estranged family really want to share the holiday together, except that the mother (Clarkson) is terminally ill — and this could very well be their last holiday together.
Writer/director Peter Hedges (Ben is Back) is careful to avoid obvious sentimentality. It helps tremendously that Clarkson's character has a dark sense of humor about her predicament. Out of that humor come some universal truths with which some viewers are sure to relate. One of the funnier sequences is on the family's car ride to Holmes' New York 'hole in the wall' apartment, when Clarkson openly admits to loving her other two children (Alison Pill and John Gallagher Jr), but having only one, single solitary good memory for her troublesome eldest, April. And upon sharing that memory, Pill quips, "That was me."
Pieces of April is shot on an early Sony DSR camera, giving it a home video look that feels appropriate for a raw look behind the scenes of a dysfunctional family. The entire cast is remarkable, with the exception of Sean Hayes (Will & Grace), whose broad performance as a neurotic neighbor feels out of place. Clarkson and Holmes, in particular, excel at communicating all the emotions that wisely go unsaid in Hedges' writing. The film is a terrific example of how good writing and good acting can work in concert to make you care about the plight of any character — no matter how big or small their obstacle or endeavor.
With Derek Luke, Lillian White, and Alice Drummond.
Oscar Nomination: Best Supporting Actress (Patricia Clarkson)